Ken Sutton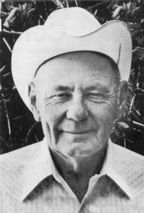 Ken Sutton loved the tradition of the reined cow horse and the people who own them. As a businessman, he was the owner of Sutton Oldsmobile, but his true passion was his horses.
A horseman most of his life, Ken had an exceptional eye for a good horse. In the sixties, when he became interested in cutters and reined cow horses, he quickly learned to pick great ones. One of his first exceptional cow horses was Ott's Blaze, trained by Pooch Lieber.
In 1970, he bought Royal Cutter from Don Dodge and even though Ken was a Non Pro, in 1971, rode him to win the Snaffle Bit Futurity Championship. In 1972, they came back to win the Hackamore Championship at the Snaffle Bit Futurity. A year laer, they returned to win the Bridle Horse Sweepstakes – the only pair to ever win this particular triple crown.
In the early seventies, Ken and his horses teamed up with Bobby Ingersoll who showed several of Sutton's 3-year-olds in the Snaffle Bit Futurity, winning the Reserve World Championship twice – on Old Zu Tucker and Oak Be Great.
It's been said that Ken lived for the World Championship Snaffle Bit Futurity and he was always a strong supporter of the National Reined Cow Horse Association.
He also had a great love for dogs, many of which were run in field trials and won many championships. A true horseman, he always ran his dogs on horseback.
Later in life, Ken developed health problems and passed away in 1995 from complications with cancer.
During the induction ceremony for the NRCHA Hall of Fame, the following poem was read as a tribute to Sutton.
Resistol hat pulled down in front, Spray-starched Wrangler jeans
Custom tailored western shirt, buttoned at the sleeves
Custom crafted leather belt; champion buckle too
Sometimes ostrich cowboy boots, or Nike tennis shoes
Little orange poodle dog, never leaves his side
Cutting horses in the barn, he cannot wait to ride.
English Pointer hunting dog, kenneled in the yard
But lately daily training has gotten rather hard.
Kenny takes his walks each day, even in the rain.
He tells himself that someday he will ride again.
Days go by and soon the cancer goes away
His heart has gotten stronger and he's gone fishin' today
Ten big healthy rainbows took his hook that day
Any other time a few would get away
Later on in summer time he talks of days to come
Bobby Ingersoll will be cutting, tomorrow around one
Chevy truck and trailer, loaded with his mare
Headed to Rancho Murietta, with lots of time to spare
A legend of the cowboy breed saddles up to take a ride
For the first time since surgery; his heart was filled with pride
Who'd have ever guessed that day, Royal Cutter would call his name
to saddle up and join him up in heaven's hall of fame?
Inspiration to everyone, his family and his friends
Bobby Ingersoll said without him he would never win again.
Kenny's earned a special place inside of heaven's gate
Today he's riding Royal Cutter in a very happy state
So Bobby, he'll be watching you each time you take a ride
And though you cannot see him, he'll be right by your side
The nation mourns and shares the pain of those who loved this man.
We won't ever forget you, Ken. Signed, A Cutting Horse Fan.