Stan Fonsen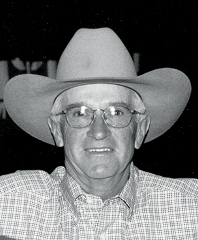 Stan Fonsen was born on a cattle ranch in Willets, California and the ranching lifestyle exposed him to animals and developed his love for horses and livestock, early on, as he learned the basics from his father.
The training facet of his life began when he was about 19 years old and worked on the Ridgewood Ranch which was the home of Sea Biscuit. Fonsen remembers, "There was an old man there named Al Payne. He was a great horseshoer and a great horseman."
He was also Fonsen's first mentor. "He taught me some really intricate things about starting colts and a little more advanced stuff. He showed some bridle horses and trained some in the good old days. You look back and say 'you know, I learned a lot from that guy and didn't realize it.'"
After attending Cal Poly, Stan began working for the power company and met Marti. The two moved to Petaluma and married. Stan continued to work his day job and on the weekends he rodeod – competing in both team roping and bulldogging. He taught riding lessons, and whatever spare time was left, he started colts.
In 1968, Stan debuted at the California State Fair, showing in the bridle and hackamore classes. In 1970 he made the leap and began training full time. He won the 1971 Cow Palace Reserve Championship on Downtown Brown. Stan also won the very first NRCHA Hackamore Maturity in Santa Rosa on JB Bull.
"I tell everybody not to do what I did. I jumped out on my own, didn't work for anybody, didn't apprentice for anybody. I said if I had just spent a minimum of one year with somebody it would have been much easier instead of trying to learn through trial and error and picking up information from this guy and that guy. That's why I tell everyone that's worked for me to not go out on your own too soon."
When I started out we did a lot of pleasure, and had a lot of youth kids riding with us. At one time I had one of the bigger barns in northern California. We had up to 30 to 40 kids. And at the same time we started the cow horses and I was training open pleasure horse. I finally drifted away from the pleasure horse business and began doing more cow horse.
The biggest pleasure futurity in the seventies and eighties was in Santa Rosa. Stan Fonsen had an outstanding barn. In the pleasure futurity, Stan and his wife, Marti, swept the 2- and 3-year-old championships. Only three years after becoming a full time training operation, Stan took a horse, Lonely Little Girl, to his first Snaffle Bit Futurity and nailed an impressive 3rd place win and in 1976 won the Reserve Championship on Dorado Miss Skip just behind Benny Guitron and Kit Smoke.
In 1976 Stan won the Bakersfield Hackamore Championship on Ima Sugar Vandy who would later produce Stan's Snaffle Bit Futurity Champion Stallion. In '79 Stan won the Cow Palace Bridle Horse on Night Hawk.
Stan continued to be a factor in Snaffle Bit Futurity Competition. Every year thereafter he would get two to four horses into the finals.
A particular run that is remembered by all who attended was during the 1977 Futurity on the mare, Miss Genie Chex. The horse and cow became tangled up while going down the fence and even with only one foot on the ground, the pair never went down. The photo transformed it into a limited edition bronze. Years later he wouldn't be so lucky. In 1992 Stan was riding the talented mare, Dazzlin Oak. A clean run in the fence work would guarantee a spot in the finals. Without warning, horse and cow became tangled and both went down. In spite of cracked ribs, he and Dazzlin Oak made the finals. But to injured to ride, it was his former CalPoly classmate, Smoky Pritchett, who came to the rescue and rode Dazzlin Oak in the finals.
1983 would be Stan's biggest year. Doc's Ruby Girl was trained as a cutting horse, but Stan transformed her into a snaffle bitter instead. She ran away with the title in the 1983 Snaffle Bit Maturity of the California Reined Cow Horse Association. She was shown in the Snaffle Bit Maturity by Stan. Doc's Ruby Girl really turned on the crowd with the fence work. She scored a spectacular 150.
The same year, Im Full Of Pep and Stan captured one of the greatest titles in the performance horse industry. "The first time I made the finals at the Snaffle Bit, I thought that was the ultimate. But you know winning the Hackamore at the Cow Palace, or winning the bridle class in Salinas, just winning something at a major event with all of the 'toughs' there, that was memorable. And I won the Snaffle Bit Futurity and everybody strives for that one and that was really something."
In 1983 Stan also won the West Coast Quarter Horse Association Pleasure Horse Futurity on Mr. Glow Jangles and he won the Cow Palace Snaffle Bit Futurity Triumph on Lei Aloha in 1984. In 1985 the pair returned to the Cow Palace to win the Hackamore championship.
From 1975 to 1999 Stan has attended nearly every Snaffle Bit Futurity and made the finals all but one time and he is equally as tough in the cutting horse pen. He is consistently in the PCCHA Finals and he has trained and shown some great horses like Peppy's Fella, No Freckles, Primco's Last, Smart Smokette, Lucky Genie, Scooter's Playmate and Piece of Pep.
His daughter, Katie and son , Brian are now showing, and with Stan's guidance Katie then became the 2000 PCCHA Cutting Stakes Non Pro Reserve Champion.
Stan Fonsen has decades of training, showing and winning. He is as competitive today as he has ever been. He has served as an AQHA judge for over 15 years. He has judged at the Youth World, the Open, the Amateur and around the world. He credits his wife with much of his success. "Marti has always been behind the scenes. She does so much to maintain my business and keep things on an even keel. It takes two people."
"Now I'm trying to slow down and enjoy life a little bit more and not ride as many horses…have a few good horses and some nice clients and that's where I want to be now."