Smoke's Belle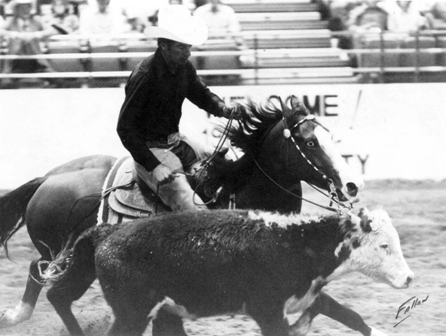 Smoke's Belle and Pat Hubbert were a team. When Pat saw the little mare place 14th at the Snaffle Bit Futurity as a 3-year-old in 1977, he knew he wanted her.
"It's a good thing that he got her," said Debbie Hubbert, Pat's daughter. "There's probably not another trainer that would have gotten along with her as well as he did."
That sentiment seemed to be the norm for the mare. Consigned to the Snaffle Bit Sale, Pat decided to buy the mare, who was by Mr Gun Smoke and out of Mac's Sujo. When he went and talked to Tom Lyons, who had shown her in the futurity, Tom informed Pat that Smoke's Belle was "a little bit crazy."
A little crazy might have been an understatement – the mare would not even let herself be caught in a box stall, but Pat just said she was a little quirky.
Pat convinced some customers of his to buy the mare, but after getting the mare home, they decided to sell all their horses. Pat told his wife, Judy, that they had to buy her. At the time, Judy assumed he was crazy.
The family mortgaged their ranch to pay for the mare, and Pat would jokingly tell people that he would move Smoke's Belle into the house and Judy to the stall, if he could.
The decision to buy the cantankerous mare paid off. Pat and Smoke's Belle went on to win many prestigious events, including Salinas, the Cow Palace, Indio, and Imperial. They won the Bridle Class at the Snaffle Bit Futurity twice – in 1980 and 1981, and were Reserve Champions in 1983 and 1985. The Snaffle Bit Bridle wins are something no other mare has achieved.
In 1986, one of her foals, Smokinic, followed in her mother's footsteps and won the Snaffle Bit Futurity. Although Pat had been planning to show her, he hurt his back, and so Greg Ward rode the mare instead. Fitting, because Smokinic's sire was Reminic – Greg's stallion.
That same year, Smoke's Belle barely missed making the bridle finals.
"Pat always said she was earning her keep," said Debbie. "Most of her wins came while she was carrying a foal. She always would show in the fall, after the baby was weaned, right up until it wasn't comfortable for her."
Pat's two daughters, DeDee and Debbie, would show the mare in many different equitation classes, and also showed the mare in many AHSA Medal finals.
Smoke's Belle produced 14 foals – 10 of which were performers. Along with her Snaffle Bit Champion, she has produced four Snaffle Bit Futurity Finalists, an APHA World Champion, Multiple AQHA and AQHYA World Show Finalists, and an AQHA Super Horse contender.
Smoke's Belle showed for the last time when she was 14 years old, when she won the California State Fair Open Bridle Championship. She retired and lived out her life at the Hubbert ranch, passing away in 2001.
Pat considered the mare a friend, and said there never was another one quite like her.