Sandy Collier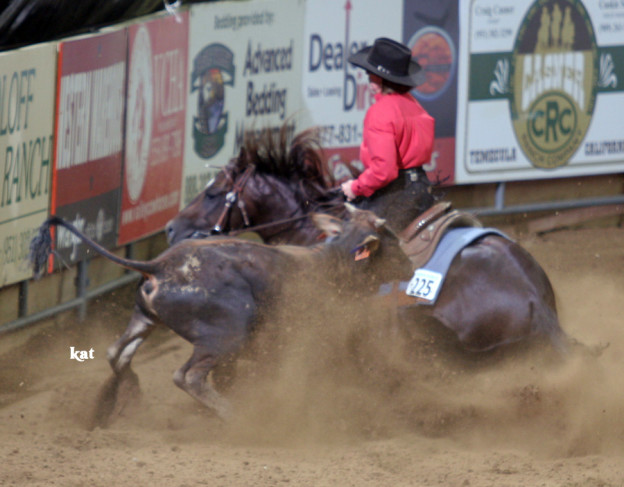 Massachusetts-born Sandy Collier began her horsemanship journey in an English saddle, starting her show career at age 6 and later moving into the fast-paced world of three-day eventing. In 1972, when she was 19, Collier began working at the Tajiguas Ranch in Santa Barbara, Calif., where her diverse range of duties included barn chores, shoeing horses, colt-starting, saddle making and rawhide braiding. She started her own training business in 1980.
In 1992, her customers, David and Paula Hunsicker, sent her in search of a Snaffle Bit Futurity prospect. Collier found what she was looking for at the Tejon Ranch, where NRCHA Hall of Fame inductee Doug Williamson was at the time.
"There was one mare who looked a little Thoroughbred-y. I think it reminded me of the old days, because that's what I
showed when I did the three-day event horses. There was something about the way she moved that made me think she was 'the one,'" Collier said. Collier bought that smooth-moving mare, Miss Rey Dry (Dry Doc x Starlita Seguin x Rey Jay), and went on to win the 1993 Snaffle Bit Futurity Open Championship with her. Collier is the first and only female Snaffle Bit Futurity Champion.
In 2001, Collier took the Futurity Open Reserve Championship, and in 2002, she won the American Quarter Horse Association Junior Working Cow Horse World Championship riding Sheza Shinette, the exceptional performer and producer now owned by Holy Cow Performance Horses. Collier, who operates her training facility in Buellton, Calif. is a AAA-rated NRCHA Judge, a member of the NRCHA Board of Directors, a 2011 Cowgirl Hall of Fame inductee and now a NRCHA Hall of Fame member.
"These are things I never dreamed would happen to me; being inducted into the NRCHA Hall of Fame. I was just a little cowgirl, trying to learn to show horses. The cow horses – it was love at first sight. When I saw my first cow horse, I
just knew I had come home," she said. "I can't imagine what my life would be like without horses. They have opened doors
to me that would never have been possible without. I've had the most amazing clients, great horses, good friends. It's
been a way of life and it's been so special, and it's all because of horses."