Smoke Time Tuck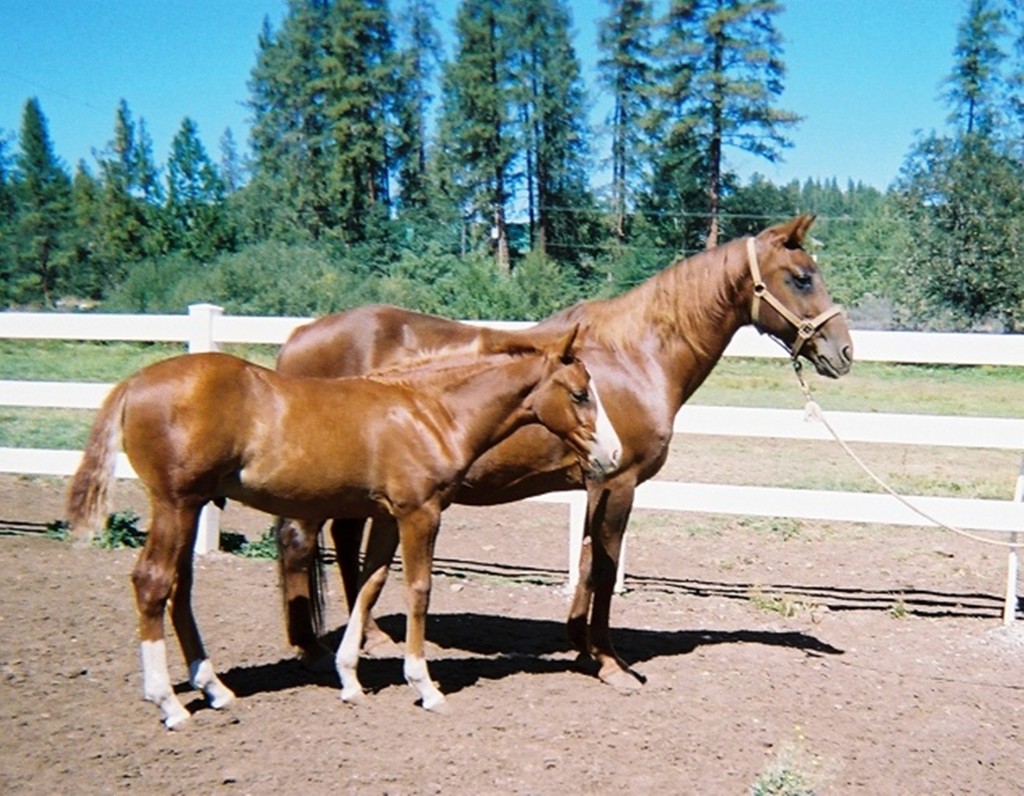 Smoke Time Tuck with her 2007 foal, Tuckers Smart Cat, at her side. Photo courtesy Bar Eleven Quarter Horses.
Half Million Dollar Mare:
Owned by Bar 11 Quarter Horses, Smoke Time Tuck's offspring have earned over $550,000. The mare's top performer, Tuckers Smart Cat is two time NRCHA Hackamore world champion and has contributed over $167,000 to the mare's records .
Hall of Fame
2015 National Reined Cow Horse Association Hall of Fame: Smoke Time Tuck
A sorrel mare from Oregon added tremendous pizzazz to the National Reined Cow Horse Association arena during her lifetime, and now joins the NRCHA Hall of Fame: Smoke Time Tuck, an Oregon-bred daughter of Doc Tom Tucker out of Ima Smoke (x Mr Fools Smoke).
The leading cow horse dam died shortly before the 2013 National Reined Cow Horse Association Celebration of Champions in San Angelo, Texas.
Foaled in 1985, Smoke Time Tuck was owned her entire life by her breeder, Bar Eleven Quarter Horses, the Eagle Point, Oregon, horse operation owned by NRCHA Hall of Fame horseman Skip Brown.
Smoke Time Tuck was shown only twice herself, earned $3,555 in NRCHA money. Her greatest contribution to her sport has been through her babies. She produced 14 registered foals, and 11 of them have won a total of $500,946.96 in reined cow horse money, making her the all-time No. 1 NRCHA dam.
California horsewoman Lyn Anderson helped Smoke Time Tuck's offspring achieve their greatest potential. Approximately half of Anderson's own lifetime $804,140.34 NRCHA money has been earned aboard horses out of Smoke Time Tuck. "The number of foals she has had that have been money-earners is just amazing, with only breeding one time a year. No embryo transfer, no nothing, and she's still on top. I owe a lot to that mare," Anderson said. She has observed similar ability and disposition in the Smoke Time Tuck babies that have come through her training program – they are high-motored, gifted athletes and natural performers.
"They're all hugely quick in the front end and super fence horses," Anderson said. Leading the impressive list of Smoke Time Tuck's money earners is Smart Time Tuck, a 1997 bay gelding sired by Senors Lil Brudder (Smart Little Lena x Senorita Misty x Senor George), who has just over $150,000 on his NRCHA earnings record. He is owned by California non pro rider Murray Thompson. The second-highest earning Smoke Time Tuck foal is Tuckers Smart Cat, by WR This Cats Smart (High Brow Cat x The Smart Look x Smart Little Lena).
The 2007 sorrel gelding carried Anderson to consecutive NRCHA Open Hackamore World Championships in 2011 and 2012 on his way to $136,662 in lifetime earnings to date. Tuckers Smart Cat is owned by David and Barbara Archer, Clovis, Calif.