Smart Little Pepinic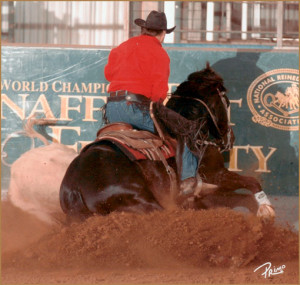 ACHIEVEMENTS:
Million Dollar Sire
Foals by top cow horse stallion Smart Little Pepinic elevated their sire to elite status when their earnings at the 2013 National Reined Cow Horse Association Snaffle Bit Futurity surpassed the lifetime $1 million mark.
Smart Little Pepinic (Smart Little Uno x Pepinic x Peppy San Badger), bred by Sheila Head, Bodega Bay, Calif., was foaled in 1993. He became a part of the iconic reined cow horse breeding program at the Ward Ranch, Kingsburg, Calif., when ranch founder Greg Ward purchased the brown stallion as a 2-year-old.
According to Equi-Stat, Smart Little Pepinic's own performance earnings totaled $87,762. John Ward piloted him to the majority of that money, both in the National Cutting Horse Association and the NRCHA arenas. Smart Little Pepinic made his debut as a cutting horse, qualifying for the Open finals at the 1997 Gold Coast Winter Derby and the Abilene Spectacular Derby.
In the reined cow horse show pen,John Ward guided Smart Little Pepinic to numerous Championships and top placings, including a NRCHA Two-Rein National Championship; the Open Two-Rein Championship at the 1999 NRCHA Futurity, NRCHA Stakes and NRCHA Hackamore Classic; 3rd place at the 2000 NRCHA World's Greatest Horseman; and the 2007 World's Richest Stock Horse Championship. Smart Little Pepinic was recognized at the 2014 NRCHA Snaffle Bit Futurity.