Kit's Smoke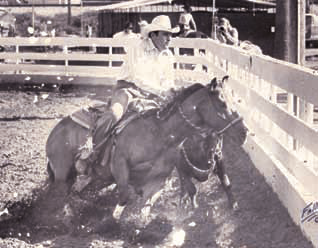 The very first time NRCHA Hall of Fame horseman Benny Guitron laid eyes on Kit's Smoke (Mr Gun Smoke x Mac's Sujo x Fourble Joe), he knew she was something special. "There was just something about that mare that grabbed you," he said. Kit's Smoke was foaled in 1973, bred by Laura Bruce, of Grayson, Ga. Guitron heard about the filly and flew to Georgia to look at Kit's Smoke for his customer, Bert Crane, who liked the Mr Gun Smokebred horses. When he saw her, the petite filly had 30 days under saddle. "I called home, and I said, 'Bert, you probably aren't going to like her because she looks like she belongs on top of your fireplace, but there's something special about this little mare,' and he said 'Go ahead and buy her.'"
Three weeks later, around May 1, 1975, Kit's Smoke arrived in California to begin training as Guitron's Snaffle Bit Futurity prospect. "She just adapted and kept coming. I was very fortunate. She never had a bad day. She was so willing, and tried so much," Guitron said. "That's the thing about that little mare that is so special. It seemed like everybody loved her. My fellow horsemen loved her as much as I did. They wanted her to win. She was kind of like a Secretariat to all of us."
Kit's Smoke and Guitron made the 1976 Futurity Open finals, receiving a standing ovation as they entered the arena for the cow work. They won the Championship by 4 points, a record-setting margin at the time.
Benny Guitron and Kit's Smoke continued to win together in the hackamore and bridle. She went on to become the first NRCHA Supreme Reined Cow Horse, and had three foals by Dry Doc. "Every major event she won, she left no doubt. She was truly a great show mare. She did everything a horse is supposed to do. She made it possible for people to gain faith in me," Guitron said.