King Fritz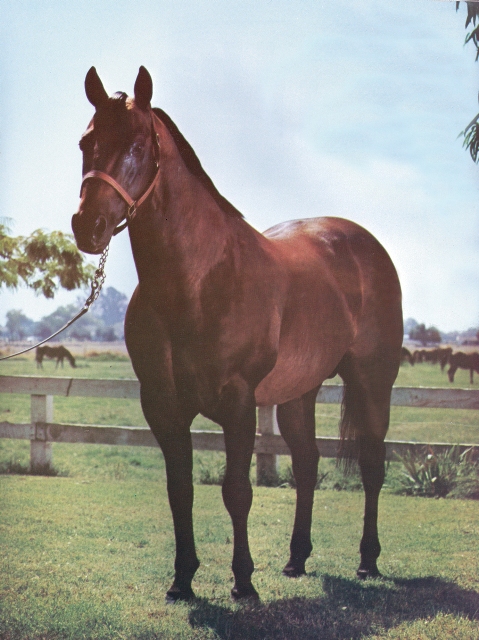 It is impressive to look at a list of entries and know you are in the presence of a great stallion. Although he passed away in 1975 at the age of 19, King Fritzs impact can still be seen in arenas across the country in the form of a Chex.
King Fritz, by Power Command and out of Poco Jane (by Poco Bueno), foaled in 1956 and was purchased as a yearling in a package deal by Fritz and Ellen Watkins of Oregon. His first five foals arrived his 3-year-old year and because the Watkinses used a checkmark as their brand they decided to use Chex in each of the foals names. That decision began a legacy.
In 1962 King Fritz received his AQHA Open Championship, earning points in Reining, Western Riding and Western Pleasure. Having achieved that accomplishment, the stallion retired from competition. He went on to sire tremendous horses like Shirley Chex, Fritz Command, Fritzi Chex, Kiddo Chex, Paula Chex, Moon Chex and Royal Chex.
In 1970, Les and Cora Lynn Vogt, saw a stallion ad for King Fritz in Western Horseman magazine and Les jokingly said he was going to buy the horse. Without any money, Les called Fritz Watkins and found out Fritz had just made the decision to sell his stallion and broodmares. Les Vogt bought the entire package.
When Les first saw King Fritz step out of the trailer he was expecting an exquisite stallion but instead saw the complete opposite and thought for sure he had made a huge mistake. The band of broodmares followed and he became more and more disappointed. At the time Les bought King Fritz, he had only sired 69 registered offspring and was bred mainly to the Watkinss broodmares.
We had the superstar mares of the day however nothing produced like that old infamous cross with those strange looking mares that I bought in the group in the original package from Fritz Watkins, Les admitted. And by strange looking, these mares were odd looking, they were real odd looking.
But paired with King Fritz, those mares produced outstanding horses. The cross was magic.
The first Snaffle Bit Futurity, in 1970, ended with a tie between Bobby Ingersoll and Les Vogt. Bobby was riding Leocita Chex and Les and Cora Lynn were the proud new owners of her sire. Three years later a Chex Wrangler Chex carried Les to his first Snaffle Bit Futurity Championship.
King Fritzs offspring were outstanding show horses and are continuing the tradition with fabulous offspring of their own. The remarkable stallion sired 318 registered foals and his daughter, Chexy Lady, is the American Quarter Horse Associations number 3 All-Time Leading Dam of World Champions. What began with a checkmark, a group of undesirable broodmares and a bay Power Command stallion has resulted in an impressive line of horses with impeccable heritage.
There were so many King Fritz horses that were consistently great horses, Les said. It was an era a time of magic.