Fillinic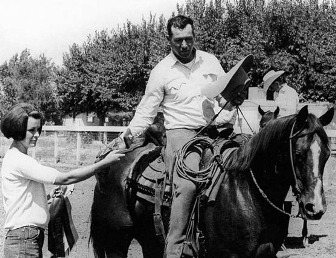 The NRCHA is built upon a foundation that was laid not only by the founding members. The stock horses the association revolves around were just as instrumental, and this year the first horse ever was inducted into the Hall Of Fame. Many horses pass through our lives, but some have such an impact, their memory remains forever burning like a star on the horizon. Laura Ward said: A man is lucky to have one great horse in his lifetime… she gave us a lifetime of greatness, we will never forget her. With all our love; to Fillinic.Greg Ward had just returned from riding cross-country in the spring of 1961 when he found a little sorrel mare, covered with wire scars tied to his fence. She had dug a hole big enough to bury 2 of her in, was covered in lather, nervous, and her name was Fillinic. At that point Greg had no idea he was looking at the horse that would change not only his life, but the entire face of the cow horse industry forever.
That purchase would turn into one of the most significant horse deals ever known, and would change the reined cow horse industry forever. Fillinic was an amazing individual, but her true impact goes far beyond her domination in the arena, and the legacy she has left on this earth through her offspring. Fillinics most significant contribution was teaching Greg to master the reined cow horse. After many years and countless championships, many on Fillinic offspring, Greg became affectionately known as The Master. Unlike most trainers who learned from their peers, Greg gave all the credit to Fillinic. This little sorrel mare was the one who taught The Master, and he passed her wisdom onto us.
When they purchased Fillinic in February of 1962, she had only the remainder of that year to be shown in the Hackamore, so she was taken to the arena. They won at Salinas, Santa Maria, and the Cow Palace; Championship saddles at all.
Fillinic was immediately bred to Wayward Wind and was put into the bridle while she was in gestation. Aminic was her first foal, and after he was weaned, she went to her first show in the bridle, and brought home the Championship saddle from Santa Maria, and the Salinas Rodeo. She then went on to the Cow Palace where they were named Champion of the Lightweight Stock Horse Division. In the following year, 1966, she was named the California Reined Cow Horse Champion Bridle Horse while winning all the big ones along the way. In 1967 she won the Frank Borges Memorial Trophy at Reno and was retired after repeating her Championship at the Cow Palace for the second year in a row.
Greg said that Fillinic was like a storybook for them, and theres no price on that sentimental attachment. She was never for sale. Other trainers told Greg that a professional horseman should never get that attached to a horse, but he told them, thats just the way it is… itd be like selling one of my kids.
Fillinic was born on the Goodyear Farms in Litchfield, Arizona on July 7th 1957, ironically, just one day after Greg and Laura were married. She was sired by Arizona Junie and out of the mare Alouette who was by a Thoroughbred stallion named Master Boss. Fillinics parentage didnt follow the usual cow horse breeding but that didnt get in her way… she was an individual. Fillinic was bred to a hot young stallion that Greg had in training named Sugar Vandy which proved to be the perfect cross. Her 2nd foal, Sugarnic, went on to win the California Reined Cow Horse Associations Snaffle Bit Futurity, and continued showing and became the 1974 and 1975 reserve champion bridle horse and the 1975 and 1976 World Champion Stock Horse. Sugarnic was bred to Docs Remedy and produced Sugar Remedy, who became the 1981 Snaffle Bit Futurity Champion. Sugar Remedy produced the 1988 Snaffle Bit Futurity Reserve Champion Peppy Remedy, who was the future dam of Reminics Pep, Gregs 1998 Futurity Champion. Amazingly, all of these Champions came from just one of Fillinic's offspring.
Fillinic's next foal was Wininic who after her show career produced the phenomenal stallion Master Remedy who has earned more than $177,000 and is on many leading sires lists. Her next foals were Picinic, Quickinic, and her final cross with Sugar Vandy, Anuthernic. Anuthernic produced the brilliant Pepinic who was the reserve champion at the 1983 National Cutting Horse Association Futurity. In the spring of 1977 Fillinic was bred to the NCHA Derby Champion Docs Remedy, and the result was Reminic. Reminic went on to earn over $90,000 in the cutting pen, and has gone on to become one of the most respected sires in the Cutting, Reining and Reined Cow Horse industries. Fillinics final foal was Fillynic, and after a short show career she had earned over $50,000 before entering the Ward Ranch breeding program. Over 200 descendants of this incredible mare have gone on to become major money earners in NCHA, NRHA, NRCHA, and AQHA events.
As a tribute to Greg, the 1999 Snaffle Bit Futurity poster features him on four futurity champions, and all of them go back to Fillinic. August 2nd of 1983 is a date that put an incredible silence over the Ward Ranch. Bobby Cotta came in from the pasture where he had found Fillinic down with a severely broken leg. It was apparent that she would have to be put down.
As irony would have it, Fillinic stood like bookends on Gregs career. She was the one who started it all, and was also there at the end. For the horse that provided Gregs last Championship ride, Magic, was a gift from Fillinic, top and bottom. It was if she knew her lifelong friends time was drawing near, and she wanted him to leave the arena with a bang; Fillinic style!
Fillinic was literally dropped off at Greg and Laura Wards doorstep, and she set into motion a chain of events that would mold the face of the reined cow horse world. Her presence on the earth is felt every day; not only through her offspring, but also by the training methods she helped Greg develop. Fillinic not only gave us great horses, but a great trainer, and mentor, as well… and he would be proud of yet another accomplishment by this unstoppable little mare.
Fillinic taught Greg to ride and communicate with horses, and Greg has in turn passed Fillinics lessons onto us. So every time you swing your leg over a cow horse, look up to the sky, tip your hat back, and say thanks Fillinic, and welcome to the Hall Of Fame.