Frank Rue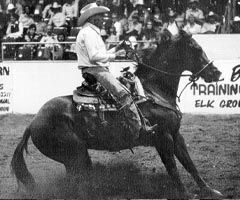 When Harry Rose, Johnny Brazil, Tony Amarel, George Rose, and Non-Portagee Don Dodge pulled in, and if there was a 6th place ribbon left, every one begged for that because that was the best they were going to do.
It was an era fondly christened as Portagee Power. In the days of showing against the Portagee Power, Frank quoted "I'm going to change my name to Ruez so I can compete on an equal ground with the Portuguese…"
He didn't change his name, but he did compete on equal ground and routinely conquered the best. Perhaps what made this most unique was that Frank was a Non Pro, who trained and showed his own horses. At that time there was no Non Pro Division as we know it today, so Frank continually competed and won against the best of the open riders.
He showed in every major West Coast Stock Horse and Hackamore Class and won year-end standings in both. He won every major Superstakes and State Fair Open Sweepstakes. At the introduction Southern Oregon, Las Vegas, Idaho, Texas and Reserve Champion in Arizona.
Frank's tenacity and consistency were what made him the 1984 CRCHA Stock Horse Man of the Year. He also served as president of the CRCHA and NRCHA Futurity from 1970 to 1990.
Frank Rue built horses like Super Cow Horse Mitch, on of the greatest cow horses of all times. Many of the horses purchased from Frank went on to stardom under new owners. Throughout his career, Frank Rue never trained outside horses or turned professional. This was on Non Pro who certainly mentored many, even his peers.