Carl Gould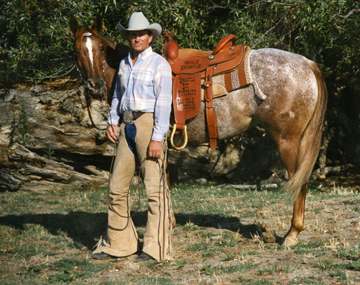 Born in Clovis, California, Carl Gould comes from family of cattle ranchers, and has always wanted to be a cowboy. As he moved into horse training, Carl's influences came from Don Murphy and Les Vogt as well as working for a number of years with Dave McGregor. Carl served on the board of directors in the mid 80s when the decision was made to change the name from the California Reined Cow Horse Association to the National Reined Cow Horse Association.
In 1989, riding the Appaloosa Ima Jo's Doll, Carl won the Snaffle Bit Futurity Open Championship. It was the first time a non-Quarter Horse had won the title.
Another first that year was his wife, Kathy, winning the Non Pro Futurity, making it the only time a husband-and-wife team had accomplished such a feat.
Carl is also an NRCHA judge and has judged at every major NRCHA event several times. Today, at the Gould Training Stables in Raymond, California, Carl continues to train horses and help many Non Pros.