Carol Rose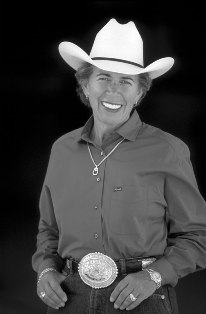 Carol Rose, of Gainesville, Texas, remembers showing when she was five. She had three sisters and all the girls showed with their mother.
"They told me that I used to go around all the time and wave and I wasn't serious. And finally when I was eight, a good friend of the family really got mad and told me that 'your mother spends a lot of time taking you to horse shows and you've got to learn to be serious. He was really angry with me for not paying attention'. So the next week I won my first trophy."
The rest is history.
"As I got older I got involved with the reined cow horse. I think I was around eleven the first time I showed – it was the California Reined Cow Horse Association and I got very involved with that."
Carol served as the Executive Secretary for the CRCHA for five years and made a mark inside the arena, as well. In the sixties, she showed heavily in the youth, ladies and the open. Since there was no Non Pro division, the open division was very large and extremely competitive. As a teenager, Carol won two consecutive ladies CRCHA Cow Horse Championships. She won the Stock Horse Class of the Junior Grand Nationals for three consecutive years and she was the 1961 Grand National Ladies Stock Horse Champion.
Rose was the third woman in history to win the Cow Palace Stock Horse Champion Stakes. She also placed in the CRCHA Stock Horse Top Ten from 1960 through 1965. She even served a reign as The Cow Palace Livestock Queen at 17. Most all of these accomplishments were done while she was pursuing her college degree. Carol attended Cal Poly and showed constantly while still maintaining honors-level grades.
"In the 60's I showed primarily reined cow horses. That was my sole interest. I also started riding cutting horses. In 1965 I wanted to win the title of champion open bridle and champion ladies in the California Reined Cow Horse because I knew at the end of that year I was moving to Texas."
Carol met her goal by winning the 1965 Cow Palace Open Bridle Championship on Right Now as well as the Reserve Championship on Timber. In all she showed Right Now 42 times and won every competition except for one, where she placed reserve. She was the 1965 Ladies Open Champion for the year.
Carol continued to make history when she moved to Texas. She was the first woman to compete in the National Cutting Horse Association Futurity, where she finished fourth on Docs Leo Lad. She won the NCHA Non Pro World Finals twice on Gay Bar's Gen and was the first woman to be inducted into the NCHA Non Pro Hall of Fame. She held the record for years for the number of world championships in the Non Pro, and she was the first woman to get into the top 10 in the Open.
When she stopped going to cuttings in 1977, it was to enter a new phase in her career – a shift in focus from showing. She turned her attention to breeding, raising and training top cow horses. She remembers, "We raised all the horses that we have except for a horse named Zan Parr Bar. All of the other ones I raised. I've always been one to watch the industry to see what's happening and to stay very current."
She continues, "It's taken hard work and perseverance and probably people telling me I couldn't do it. I had to show them that maybe I could."
Her iron will silenced the nay-sayers. To this day Zan Parr Bar is still the leading sire of performing world champions at the AQHA World Championship Show. His get earned nearly 25,000 points in most every AQHA approved event. But great success rarely comes without equal trials and tribulation. Zan Parr Bar was breaking all world records as a sire, when Carol received her first major blow. Zan Parr Bar died unexpectedly, of colitis X, in 1987.
"When I lost Zan Parr Bar I was just devastated. I had a young horse named Zans Diamond Sun. I had crossed Zan Parr Bar with the AQHA Super Horse, Diamond Sparkle. I'll never forget Bobby Lewis saying 'you can't expect to put Sunny in Zan Parr Bar's stall and have him carry on.' I said 'I think I can.'"
Zans Diamond Sun was the High-Point All Around Champion of the nation, World Champion Reining Horse, High Point Champion in Calf Roping, Heading and Heeling, and was third in the National Reining Horse Association Open Futurity.
Yet Carol's vision of the future was shattered yet again, when unbelievably, before his second breeding season was completed, Sunny died – just two years after his sire.
Support was there to help her through the tough time. "I called my mother and told her I wanted to quit the horse business. She insisted that I go on. She said 'we'll just raise another one.' I said "well mother, it's not just that easy.' That was in 1989 and little did we know that Shining Spark was beside his mother, Diamond Sparkle, he had just been born."
That "shining" star would soon rise. "When we started Shining Spark, and watched him ride for the first time I knew he was very special but I didn't know if I had the perseverance to wait. But it's been worth the wait. 'Shiner' was destined to greatness. His reining scores set records, and he became the reining industry's youngest million dollar sire."
Carol has been inducted into the Cowgirl Hall of Fame , the Texas Cowboy Hall of Fame and was named the 1998 AQHA's Professional Horsewoman of the Year. She was the first female member of the AQHA Judges' Committee. She has been an approved judge for the AQHA, NCHA, NRHA and AHSA and a National Director and serves on the registration committee for the AQHA. She is AQHA's all time leading breeder of performance horses, and has been the number one breeder of reined cow horses for the past 5 years.
Her "can-do" mind-set has inspired many. "I don't believe it is a man's world. There are a lot of men, but at the time I started doing what I do, there were very few women that did it. I guess people would say to me 'you can't do this by yourself,' and I said "you know, I think I can."
She says softly, "I cannot imagine my life without horses. All I have ever known are horses, and I have a passion for them. There is nothing like foaling a mare, watching that baby take its first breath and watching him become a champion."