Ronnie Richards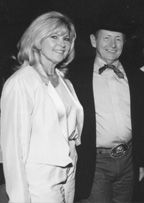 Ronnie Richards was born in Davenport, Iowa, but his family moved to Sacramento when he was eight. The Richards had long been involved with horses – his grandfather had been a horse trainer and mule trader and his father was an outstanding horseman, as well.
Four years later Ronnie traded for a standardbred/thoroughbred mare he called Nita. She had originally been shown by Don Dodge, but had subsequently been used for stake racing. He won his first stock horse class on Nita, then went on to win the next 45 consecutive stock horse classes he entered! The pair was never beaten in a junior stock horse class.
In 1955, when he turned 18, Ronnie started his own horse training business in Irvine, where he traded training one of Glen Thompson's horses for the use of six tie stalls and a one-room cabin.
Soon Ronnie began to appear in the winners' circle, starting with Touch Of Texas at the Grand Nationals in 1959.
He won the Junior Pacific Coast division "A" on Eddie Reed and in subsequent seasons won more year-end championships in that division that any individual in history, Lucky Libra, on whom he won California's richest stock horse event in 1961, was a favorite horse for Ronnie, and his many titles included the 1966 Santa Barbara Nationals championship on Jimmy Wood as well as the Cow Palace Mare Class on Speedy Cash, in 1972.
Mona Lisa was originally trained by Joe Yanez, then went to Don Dodge and finally to Ronnie and he and the great unregistered mare dazzle spectators and trainers nationwide. Mona Lisa is still considered one of the greatest reined cow horses of all time and was the first horse to win all three bridle horse classes at the Cow Palace.
In 1974, he rode Lisa Chick, Mona Lisa's only foal, to win the Stock Horse Stakes Championship in Monterey and the Mare Class at the Cow Palace.
A list of Ronnie Richards' winners reads like the "Who's Who" of the stock horse world. Over the years, a collection of great horses, like Scooter Reigh, Hackamore Stakes Champion Ebony Chex, and Cow Palace Champion Poppa Chex made their way through Richards' program. He won the Santa Barbara Championship and Reserve title on Cheshire Chex and Moon Chex, the Bakersfield Cow Horse Classic on Lucky Mac and the Cow Palace on King Jay Bar, with which he also won the Phoenix Stock Horse Championship.
Mounted on other great horses like Who Knows and Speedy Cash, Ronnie was a formidable competitor in the Open "A" Stock Horse Division.
He and Mo Chex won the Del Mar Hackamore Stakes. Marco Tivio, one of Ronnie's favorite horses, won scores of championship for Ronnie. Sold twice, he earned multiple awards for other riders, as well.
Ronnie Richards also took both the championship and reserve for the First Pacific Coast Stock Horse Stakes to ever offer a $10,000 purse.
The large open shows of the fifties, sixties and seventies were not as specialized as contemporary shows and stock horse, trail, pleasure, hunters, jumpers and halter horses were all shown at the same shows, all in events in which Ronnie competed.
The Del Mar Show was the site of some of Ronnie's greatest triumphs. He won the Stock Horse Championship thirteen times and the Green Stock Horse Championship five years in a row, but more important, he met his future wife, Karin, there. The couple had two daughters, Susie and Laurie.
Ronnie doesn't even remember how many times his horses have won the AHSA Horse of the Year awards, but he is credited with turning out more international and American Horse Show Association Medal Finalists than anyone in history.
Through the years, Richards has qualified 17 horses for the NRCHA World Championship Snaffle Bit Futurity Finals and was reserve champion on Me O Lena in 1981. He has served as an AHSA, AQHA AND NRCHA judge and served as the NRCHA Director of Judges.
A former NRCHA Board Member, Richards was named the National Reined Cow Horse Association Stock Horseman of the Year in 1997.