Right Now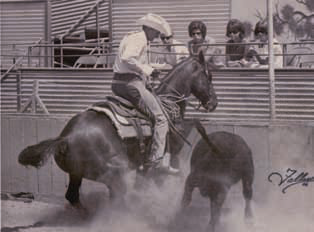 He looked like a "little red skinny horse when he was born," according to NRCHA Hall of Fame inductee Jim Paul Sr., but the 1957 gelding Right Now matured into what Paul and many of his peers believe was the greatest cow horse who ever looked through a bridle.
Right Now was sired by Poco Willy, a son of Poco Bueno, and out of a Thoroughbred mare, Lark Satin, a daughter of Satin Coat. Right Now was bred by NRCHA Hall of Fame horsewoman Barbara Worth, who was married to the famous cow horse trainer Don Dodge, another NRCHA Hall of Famer, at the time. The gelding was originally registered under a different name, one that "didn't sit well with the owner of the mare, so they changed it to Right Now. We don't know how he got that name, but we think she probably said 'Change his name right now!'" Paul said.
Worth and Dodge divorced by the time the colt came of riding age, and Right Now stayed in Dodge's program. The meticulously patient horseman coaxed out Right Now's talent in a manner that NRCHA Hall of Fame inductee Benny Guitron said would be unlikely today. "That horse was so bold. He was all horse. Don knew if he kept riding him and taking his time, it was going to come. We were very fortunate in that era; our owners allowed us to nurture and take our time with horses. He would have been a throwaway today, and it would have been a crime to the horse industry, because that was a great horse."
Dodge rode Right Now to a multitude of titles, and then the gelding was sold to Carol Rose who continued his formidable performance career. "Carol won just about everything on him that she showed him in," Paul remembered. "You couldn't get him wrong. He was so cow smart. If you got him tight, he'd get himself shaped to turn. If you were a little off in the wrong spot, he got in the right spot. He was just a unique horse; he'd figure the cow out in spite of you."
Rose eventually sold Right Now to his last owner, Ken Sutton, who kept the gelding for the remainder of his life.