Richard Deller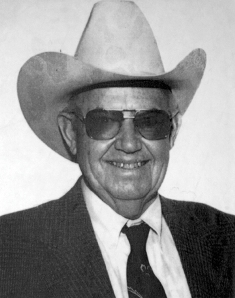 Richard Deller was born in Sacramento California on January 21, 1923. A self confessed "city kid", Dick said he wore the wheels right off the roller skates that got him around town. His father owned a meat packing plant and it wasn't long before Dick started showing interest in the horses that were used to move the cattle around the facility. Realizing Dick's interest, his father bought him his first pony, and that was the start for the little boy that would become a founding member of the Reined Cow Horse Association.
Riding Baldy, wearing the chaps his father made for him, Dick received more and more experience riding at the packing plant and his dedication to the horses prompted his father to make a huge leap. Dick found himself aboard his first good show horse…Mike. This was in the midst of the country's great depression and money was tight at the time, but Dick didn't disappoint his father, he worked harder than ever and looked for help everywhere he could.
As a teenager, Dick started showing against the adults in the open classes and it encouraged him to work even harder. He was completely focused on the horses and didn't seem to mind that that they took away all of his free time… for Dick Deller was a boy with big goals in mind. But one day at a horse show, his life would unexpectedly change.
Dick met the love of his life, Genevieve, at a horse show, and they were married in 1943. They continued showing together. Although they never took in any outside horses to train, they would occasionally help a friend out who had a horse that had some problems. The couple trained, showed and sold horses to make a living.
Dutch was one of the horses that helped elevate Dick to the top of the cow horse classes. He was a consistent winner from 1945 through 1947. He won the Stock Horse Stakes Championship in Bakersfield three consecutive years, and won the same class in Susanville for three years, and Red Bluff for two. Dutch was truly an outstanding gelding.
Another outstanding cow horse Dick rode was Cactus. Cactus took Dick on many championship rides and ended 1953 as the Reserve Champion Stock Horse of the Pacific Coast Hunter, Jumper, and Stock Horse Association. At the California Rodeo in Salinas, he won the lightweight stock horse class in 1953, won the Championship Stock Horse Stakes and Saddles in 1953 and 1955 and then retired the California Reined Cow Horse Association perpetual trophy. In 1956, Cactus was the California Reined Cow Horse Champion.
Dick started judging horse shows, and found tremendous success. He held cards in many associations including the American Horse Show Association, Quarter Horse and Paint Horse Associations, the National Cutting Horse Association, the Appaloosa Horse Club, the Buckskin and Palomino Registries, and the International Arabian Horse Association.
Dick's contributions to the horse industry are vast. He was the President of the Pacific Coast Quarter Horse Association, and was inducted into their Hall Of Fame. He served as president for the California Reined Cow Horse Association and was a director for the AQHA. Dick was named the NRCHA Stockhorse Man of the Year and has received the coveted Vaquero Award. Dick has even put his thoughts about Spade Bits into a book called… One Man's Opinion About Spade Bits. Dick has had a major impact on the entire horse community. With all of this experience, Dick does have some concerns about the horses he truly loves… he wishes we would all just slow down in our training.
If you ever have the privilege of visiting with Dick, you will find that he is a humble, gracious man that has enjoyed and cherished his life. He is a true horseman with love and passion in his heart for these great animals that have been his life's guiding light.