Lola Galli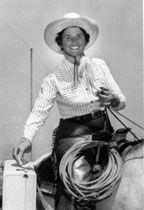 The third daughter of Art Fruits, a stagecoach driver, Lola Galli's early love for horses became a lifelong legacy. As a child, she watched as her father ran his stagecoach from New Indria and back to his home in Tres Pinos, California. He also ran a jerk line of mules which consisted of a chain, instead of a wooden tongue, dividing the mules. Treacherous dirt roads with steep grades and tight turns could be navigated by having the mules walk beyond the road up the mountain until the wagons could navigate the turns without falling down the cliffs. As the mules turned back toward the road, the outside mules would step over the chain to navigate down the hillside again and step back over the chain again once they reached the road, all done by voice command and a single line to each snaffle bit.
Lola rode the off wheel horse up the road to meet her father's stage coach, and then rode back to town. Twelve year old Lola got her first horse of her own. After that she was always seen throughout town riding him bareback. That same year Bolado Park in Tres Pinos began holding horse shows. She attended every show; however she was a fixture in the men's classes, not the ladies. All though Lola would never say so, it was apparent to all that it would have been unfair for her to compete only against the ladies as few men could beat her either. Will Rodgers said in 1934, "'I don't mind the men beating me roping, but when a girl does, it looks like golf will be coming up soon"'.
When her father became sheriff of San Benito County, Lola already had a reputation as a top rider, roper and horse breaker. After she graduated from high school, she worked at the Willie Butts Ranch and the Ashurst Ranch, breaking colts, training good cow horses, and driving cattle to the mines.
She caught the eye of a responsible, well respected horseman named Frank Galli, and they were married at the little Catholic Church which still stands at Tres Pinos. They moved to the Quien Sabe Ranch, where Frank worked as foreman. She trained horses there and worked along side the men. Although she was a Protestant and Galli was Catholic, she was always very involved in church fundraisers.
On a trip to Texas and Arizona, Lola saw cutting horses perform for the first time and she brought the event to Bolado Park as a warm-up for the Salinas Rodeo. Eventually it became a major event at Salinas that would last for decades.
Lola Galli was a skilled horsewoman who learned her trade early on working ranches. She applied her skills to the show ring and at times seemed unbeatable. Her home was lined with trophies even after she gave many away. She won the Cow Palace for three consecutive years on her horse Boots. She was acknowledged for 50 years of service from the Salinas Rodeo Association in 1973; from the California Rodeo Association; she received honors from the Saddle Horse and Rodeo Association, and there is a museum in her honor at Bolado Park. She was best remembered for always having something nice to say, no matter how bad it got, even if all one could say was "'your hat stayed on"'. Her willingness to share her knowledge is a large part of her legacy.
Before her death, Allen and Carolyn Renz guided Lola to the bleachers at Bolado Park as they had for nearly a decade. Doctors said that Alzheimer's had erased Lola's memories. She did not recognize faces and did not appear to know where she was. Then, unnoticed by others, it was as if a cloud lifted, her back straightened and her eyes glanced briefly from the competitors to the horizon. Then she said words they will never forget "If only I could ride one more good horse…".