John Ward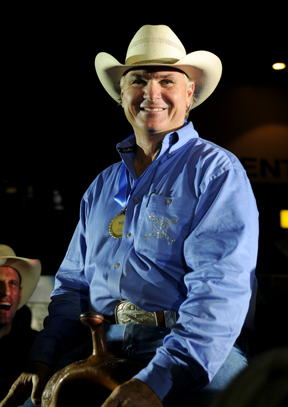 LIFETIME EARNINGS:
$1,206,461.87 
ACHIEVEMENTS:
Million Dollar Rider, Snaffle Bit Futurity Champion, Hall of Fame Inductee
Million Dollar Rider
The name Ward is almost synonymous with reined cow horse, bringing to mind a long history of great wins and top-notch cow horses. John Ward, who currently resides in Kingsburg, California, won his second NRCHA Snaffle Bit Futurity title in 2008, on the home-bred Black Pearl. Ten years earlier, he won the Championship on Masteroani.
When notified of his $1 million accomplishment, the personable champion was enthusiastic and quipped, "This is great! That means that no matter how I do at the Futurity, I still get a prize on Sunday!"
Ward will receive the signature Carol Owens Bronze during the Opening Ceremonies/Awards Ceremony at the 2009 Snaffle Bit Futurity. With his already-long list of achievements, there is no doubt that he'll continue to earn many more awards in the future.
Hall of Fame Inductee
National Reined Cow Horse Association Million Dollar Rider John Ward grew up in the Mecca of reined cow horse training, riding under the watchful eye of not only his father, Hall of Fame rider and Snaffle Bit Futurity Champion Greg Ward, but also a who's who of fellow cow horse legends. Today, he joins them in the NRCHA Hall of Fame.
"I was born into it," said Ward, from Kingsburg, California. "My dad is Greg Ward, and he was the first one of the first members put into the NRCHA Hall of Fame. It was a blast. It was a part of a horse show where they had the jumping horses, the gaited horses, the Tennessee walkers and then cutting would happen, and then it would end up with the cow horse going last. It was nothing but fun!"
Simply because Ward was born into it, didn't mean he was destined to train horses, even with a clear path into the industry. His father introduced him to competition early, but it was with a ball and glove, not in the saddle. Soon, Ward's ability as a catcher in baseball was more of a draw than horses. He headed to college to play ball, but after school it was all cow horse.
"You kind of have to be a horse lover if you're going to be around for 24 / 7 and they're going to be such a big part of your life," Ward said. "There's a lot of horses I like way more than a lot of other people!"
Ward mentored under his father and came up in the cow horse ranks. Today, he can count himself as a two-time NRCHA Snaffle Bit Futurity® Champion, first winning in 1994 aboard Masteroani (Master Remedy x Just Docs Socks x Docs Fri Dee Bar) and then again in 2008 riding Black Pearl (Smart Little Pepinic x Sugar Babe Taffy x Master Remedy). The 2008 win pushed him across the Million Dollar Rider mark.
"Wining in the Snaffle Bit, the Futurity is about as big a high I think a person can have, because everybody wants to win the Futurity if you're showing reined cow horses," Ward said. "It was one of the most fun moments to win. To be a multiple Futurity champion is thrilling."
A competitor through and through, Ward didn't only contribute to the association through showing. He was involved in the creation of the Snaffle Bit Stakes, a stallion incentive program, that is now known as the Stallion Stakes. He devised the rules, set up payments from stallion owners and sought enrollments. The first stakes event was in 1986.
"He's been a breeder, a trainer, a showman. He's been through it all. And not only that, but the contributions also that he's made to the association has been a lot more than most of us have done," said Smokey Pritchett, fellow NRCHA Hall of Fame member. "I think John doesn't really see what a visionary he's been in the reined cow horse."
In addition to giving of his time as an NRCHA Board of Director and his involvement in the incentive program, Ward Ranch donated a raffle colt with a year's worth of training to the benefit of the NRCHA annually. The ranch donated 29 colts in total.
Ward's investment in the industry also includes mentoring up and coming trainers, like Ward Ranch trainer Chris Krieg.
"The impact that he's had on the cow horse community is a layered question," Krieg said. "I think it's not just John, it's also, his dad and then the horses in Ward Ranch. It's everything. There is no doubt he needs to be in the Hall of Fame. He is a legend like the rest of those guys and it is cool to see him represented with them."
For Ward, the induction is a time to reflect.
"The Hall of Fame is forever; the legends are in it," Ward said. "When my dad used to say the horses are your teachers and you know, you take that for granted when you're. kid. There's been some moments you don't forget. It's a real honor to go in the Hall of Fame."