Jake Telford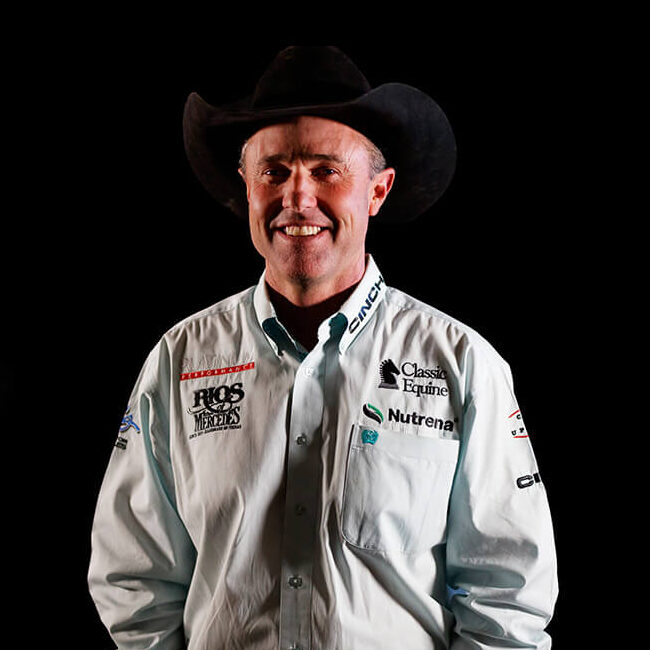 LIFETIME EARNINGS:
$2,094,018.14
3 YEAR EARNINGS:
$188,686.35
ACHIEVEMENTS:
Million Dollar Rider, Snaffle Bit Futurity Champion
In less than twelve years of National Reined Cow Horse Association competition, Caldwell, Idaho, trainer Jake Telford has joined the association's most elite group of riders – becoming the eighth member of the NRCHA's Million Dollar Rider Club in 2012.
"I'm still in shock. It's amazing to be in the realm of some of the people who have really helped me in my career. Actually, pretty much every other Million Dollar Rider has helped me in one way or another at some point," Telford said graciously at the time of his Million Dollar milestone.
Telford won his first NRCHA money in August of 1999, winning $110 in the Open Hackamore at an Idaho Horse Show. This past October, he won his biggest chunk of money on a single horse in a single event when he piloted One Time Rey Jay, owned by Aspen Meadows Ranch, to a Reserve finish at the NRCHA Snaffle Bit Futurity. That win put him within striking distance of the major milestone – and prior to showing at the NRCHA Hackamore Classic, he was barely $1,000 away.
"I knew I was close after Reno, but I wasn't keeping track of it. Driving home from the Hackamore Classic people started to call me and congratulate me – so that was pretty cool!"
Ever gracious, Telford gave credit to several of his mentors. "There are so many people who have been with me from the beginning. Ted Robinson has been my herd help guy since my first show at Reno. Dan Roeser has also been in my corner from the very beginning and is one of my best friends and biggest supporters, and Anne Reynolds has also helped me so much. They are all invaluable to me," he said.
Telford also noted that he wouldn't have had his success without the horse power and the support from his owners. "Every owner has been great. From my very first customers – Bob and Bonnie Schwenkfelder – to all the ones I have now, I have been fortunate to have a great group of owners. My earnings shot way up when I started riding horses for Nancy Crawford-Hall, who is like family to me. Newt White has put me on some really good horses, and Dave and Loke Allen have been great for many years. I've just been very fortunate."
Jake Telford Joins NRCHA $2 Million Dollar Rider Club (October 2021)
Jake Telford joins an elite, and small, club as he becomes the fourth National Reined Cow Horse Association trainer to become a $2 Million Dollar Rider. Telford, of Caldwell, Idaho, is no stranger to success in the show pen, but achieving this milestone only nine years after becoming an NRCHA Million Dollar Rider left the horseman speechless.
Over the course of his NRCHA career, Telford has earned multiple titles, including 2020 World's Greatest Horseman Co-Reserve Champion aboard Sparktilion, owned by Michelle Cannon, and 2015 Snaffle Bit Futurity® Open Champion aboard Starlight Kisses, owned by Holy Cow Performance Horses. He achieved Million Dollar Rider status in 2012.
Telford's earnings sum going into the 2021 NRCHA Snaffle Bit Futurity, presented by Metallic Cat, was $2,009,625.86. Joining only three others as a $2 Million Dollar Rider— Todd Crawford, achieving in 2011; Todd Bergen, achieving in 2015; Corey Cushing, achieving in 2018—Telford is part of small group of riders, but an impactful one. When the four sat down recently to discuss what it takes to achieve this milestone, Telford pointed at Bergen, Crawford and Cushing as riders who have helped him along the way.
"When your idols become your peers, and to be sitting among them, it is pretty cool to me," Telford said. "It is so competitive anymore, there is a lot of luck involved—the right draw, the right cow and so many other factors. I don't feel like I show better than anyone else but have had some good luck. That, and I've stuck to it for long enough."
Traditionally, Telford has pushed the praised onto the owners of the horses he shows, thanking them for giving him a shot. The horses, he said, are a big part of him achieving Million Dollar and, now, $2 Million Dollar status in the NRCHA.  Telford's earnings are still climbing as he rode RTR All Rise, owned by Loren Macey and James Baker, to the third-high rein work score in the Open Futurity prelims.
"It's always meaningful to celebrate the important milestones of our riders and horses," said Anna Morrison, NRCHA executive director. "To be able to celebrate Jake's $2 million milestone at the Snaffle Bit Futurity, where he is surrounded by so many of his fellow horsemen, is particularly exciting."
The 2021 NRCHA Snaffle Bit Futurity, presented by Metallic Cat, runs now through October 23. Be sure to follow along with the reined cow horse action by visiting the show in person or watching the free, live web broadcast at NRCHA.com. The NRCHA will honor Telford, as well as other milestone achievements, during the Open Finals on Saturday, October 23. Tickets are available at NRCHA.com.