Jimmy Williams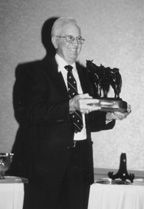 Few would disagree that Jimmy Williams' talents as a horseman and teacher are unsurpassed in the hunter jumper industry. He coached the United States Equestrian Team in Calgary from 1978 to 1982. He trained world-renowned Grand Prix riders like Susan Hutchinson and Hap Hanson.
From the time he was 8 years old, Jimmy Williams had a love affair with the horse and horses were pivotal in his entire life. The essence of horsemanship, Williams had a tremendous influence on the horse world. Even during his stint in the military in World War II, where he was awarded a Purple Heart, horses were a part of his life.
But, Jimmy Williams began his career riding stock horses.
He came up through the ranks, first as a jockey on the bush track, then began turning out top stock horses and tall jumpers. He maintained his own public riding stable for hackamore, cutting, reined horse, hunters and jumpers.
He made Champaign the Champion Stock Horse in 1946, 1948 and 1950 and Ben Jr Champion Hackamore Horse in 1949.
His Little Coquette won the Pacific Coast Hackamore Championship and he rode the great mare, Henny Penny Peak, who went on to produce the great sire, Driftwood.
Jimmy served as Vice president of the Pacific Coast Hunter and Jumper and Stock Horse Association and was on the Board of Directors of the Pacific Coast Cutting Horse Association.
By the time he came to Flintridge Riding Club in 1957, he was already known as a champion rider of horses in every discipline and he was named the 1960 Horseman of the Year. He was recognized by three California governors for his contributions to the sport of horsemanship, but because Flintridge was not zoned for cattle, he redirected his focus completely to hunter/jumpers.
Jimmy's career as a showman, teacher and trainer is perhaps unsurpassed. It has been said that the key to Jimmy's training and teaching techniques is that he followed no rules; he just used what worked. And he always believed that "it's what you learn after you know it all that really counts."