Jim Roeser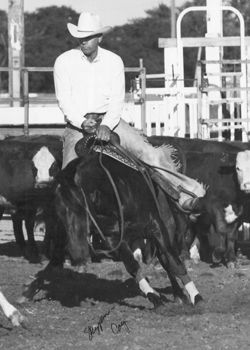 Jim Roeser was born in Caldwell Idaho on May 29th of 1933 to a ranching family, as his parents and grandparents had trained and supplied horses to the US Army before their move to Idaho. Jim grew up around the auction yards and horse ranches, penning cattle and starting colts and in his teens, rode race horses at Sage Acres and other local tracks, along with being an outstanding football player at Caldwell High School where he graduated in 1952. Three years later Jim married Lola Layher and the couple had four sons, Dan, Tim, Jon, and Mark.
As a young man, rodeo was Jim's after only 6 amateur events, he joined the Rodeo Cowboys Association. Jim qualified for the very first National Finals Rodeo in Dallas in 1959, and between then and 1964 he qualified for the finals 5 times in Saddle Bronc and Bareback events. He took the Bareback Championship at the Snake River Stampede in 1957, won the Fort Worth Stock Show in 1960 in Saddle Bronc, and was the Bareback Champion at the 1962 Calgary Stampede. He was the All Around Champion several times at the Caldwell Night Rodeo where he went on to serve on the board and take a turn as president. While riding at the Salinas Rodeo, Jim took notice of the stock horse classes and became friends with Johnny Brazil who got a kick out of this bronc rider being interested in the finely tuned horses. Jim retired from Rodeo in 1965, the same year he and Lola bought a little ranch near Caldwell. Five years later, the family suffered a huge setback when Lola passed away at the age of 36.
Jim became deeply involved with the cow horse world, but not just in showing and training. He could be found at many of the Cow Horse events around the country, making friends and being an ambassador for the reined cow horse industry by helping many individuals and associations get started. He was one of the founders of the Idaho Reined Cow Horse Association which held its first Futurity in 1975. Jim placed second in that first futurity and two years later won it on Nik Nack, the same year he married Carlene Solomon. Together the two of them built Roeser Training Stables into one of the finest training and breeding facilities in the Northwest. In 1980 they purchased the mare Royal D Lou who had a son of Dry Doc at her side named Dry Double, the colt that would go on to become the cornerstone for the Roeser's breeding program. Between 1982 and 1989 Jim qualified 5 horses for the finals of the NRCHA Snaffle Bit Futurity. In 1982 he placed fourth out of over 300 entries on Dry San, and in 1983, on Dry Doubles, he placed second in the herd work at Reno, and was third at Idaho out of more than 140 entries. Jim had two horses in the finals at Reno in 1984 – Royal Dry and Real Dry, then in 1986 it was Dry Sanita. In 1989, Chase Me Dry, one of Dry Doubles first offspring, made the finals.
He won the bridle class at his beloved Idaho Futurity many times on such horses as Lahekin Tu, Whirlaway Derby, Chase Me Dry, Real Dry and Miss Dry April.
In 1986 Jim and Carlene were able to buy the ranch of their dreams on Squaw Creek in Southwest Idaho, and Roeser Ranch has since been recognized by many magazines, including Western Horseman, Performance Horse and Cascade Horseman as an outstanding traditional family ranch that produces world class cow horses, while Jim was honored by the NRCHA in 1991 with the Vaquero Award, and in 1994 as Stock Horse Man Of The Year. Jim and Carlene had 17 wonderful years together raising cattle, Dry Double foals, and border collies before Carlene passed away in 1996 and Jim just one year later in April of 1997.
Jim's legacy goes far beyond great horses, and it continues on through his sons. Dan and Jon are top reined cow horse trainers, and they both continue in their father's footsteps by serving on boards and committees, and Dan is the current NRCHA President. Tim runs the cattle and horse breeding operation at the ranch, and Mark has several good brood mares, leaving no doubt in anyone's mind that Jim is looking down and smiling on the Roeser family tradition his sons are carrying on.
Jim remains the only man in history to have qualified for both the NRCHA Futurity finals, and the National Finals Rodeo… and in 1997, the year of his death… he was remembered and honored by his friend Bob Tallman during a performance at National Finals Rodeo.