Doug Williamson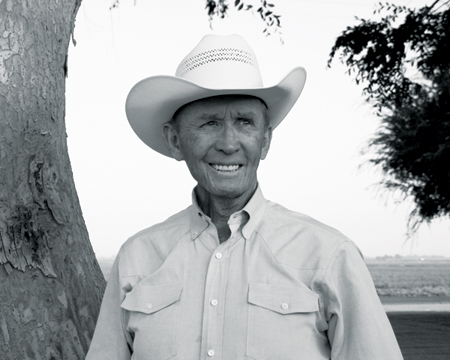 LIFETIME EARNINGS:
$1,425,791.97 
ACHIEVEMENTS:
Million Dollar Rider, Snaffle Bit Futurity Champion, Hall of Fame Inductee
Million Dollar Rider
When NRCHA Hall of Fame horseman and two-time Snaffle Bit Futurity Champion Doug Williamson banked $50,000 for his 2012 Snaffle Bit Futurity Open fourth-place finish on Belle Meade Ranch's High Brow Shiner (Shining Lil Nic x High Brow Meow x High Brow Cat), he became the ninth NRCHA Million Dollar Rider! Williamson also is the oldest Million Dollar Rider, although anyone who watches his gritty performances in the show pen would find it difficult to believe the Bakersfield, Calif., professional was 70 years old when he passed the $1 Million milestone. He routinely appears in the finals at every major NRCHA event, and only seems to become more successful with each passing year. Besides placing fourth in the 2012 Futurity, Williamson also won the Open Bridle Championship aboard Gardiner Quarter Horses' stallion, Hes Wright On (Lenas Wright On x Shesa Lota Nic x Reminic).
Over Williamson's five-decade career, he has amassed a lengthy list of accolades. In 1992, he won his first Snaffle Bit Futurity Championship aboard Mr San Olen (Peppy San Badger x San O Lenita x Tenino San), and then, a decade later, won the 2002 Futurity title on a Mr San Olen foal, Doc At Night (Mr San Olen x Docs Hickory Nut x Doc's Hickory). Williamson is a perennial finalist at the NRCHA's most prestigious limited age events. He won the 2007 NRCHA Derby Championship on Docs Soula (Soula Jule Star x Docs Hickory Nut x Doc's Hickory), owned by D & S Quarter Horses, and then claimed consecutive NRCHA Hackamore Classic Championships in 2009 and 2010 on the same horse, Smart Miss Merada (Leo Merada x Uno Smart Lady), a mare he owned with his wife, Carol.
Williamson also is well known for his prowess in all-around bridle horse competition. In 2010, he was the Reserve World's Greatest Horseman on Hes Wright on, and he also piloted the stallion to a pair of Reserve Championships in the World's Richest Stock Horse in 2010 and 2012.
The Idaho native survived a terminal cancer diagnosis in 1987, and has said the experience permanently improved his outlook on life. It's easy to believe, watching his irrepressible grin and the verve that he brings to every run in the show pen.
What's Williamson's secret to staying in the winners' circle and routinely besting riders less than half his age?
"I try to keep myself up with the changes. I change with the times, and I try to make my horses really happy, which they all are. They love to be cow horses," he said. "I think the reason that I do win is that I really try to make cow horses. I don't tell them what to do with the cow. I may scold them for not going to the cow, but I don't tell them to go with the cow. It's their job to do that. It's their choice."
Williamson's "bucket list" includes a couple of prestigious titles he has not yet claimed: the World's Greatest Horseman Championship and an American Quarter Horse Association World Championship.
Hall of Fame Inductee
Doug Williamson has truly lived the Western dream life movies are made from. Born in the Southeast corner of Oregon, Doug was the oldest son of Sylvan and Barbara Williamson. Raised as a cowboy on the family ranch and riding a horse from the time he could crawl, Doug's first victory came at the age of five while riding behind his Dad in a match race!
Doug's love for the race horses grew and it wasn't long before he was on the tracks, himself. He also participated in Western events, winning his first buckle at the age of 8 in hackamore reining. At thirteen he won his first buckle calf roping, then, a year later when his dad was seriously injured in a riding accident, Doug took over the duties of running the family ranch.
Sylvan Williamson always had an eye for great horses, and purchased one that would turn into one of the best horses Doug would every ride. His name was Baldy C. The horse could do anything and let Doug know what a truly great horse felt like. When Baldy C was 16 years old When Doug was 19, he rode Baldy C to become the high point working cow horse in the nation… a title they captured again two years later.
At 17, Doug decided it was time to strike out on his own, and he secured a job as the cattle foreman for the Markham Cattle Company. While Doug was working on the ranches he always had outside horses in training, and he credits many of his skills to the old timers he learned from. In the mid sixties he took a break from training full time, and decided to rodeo for a living. On the road for about a decade, Doug calf roped, team roped and rode a few saddle broncs, winning prestigious events all over the West, including the Ellensburg Rodeo.
In1978 Doug went back to training full time in Nampa, Idaho, and for 14 years he trained everything from halter horses and cow horses, to English equitation horses. He made over 30 AQHA Champions in many different events, and ranks among the AQHA's most successful trainers.
In 1987 the world came crashing down on the Williamson family when Doug was diagnosed with cancer. He was near death in the hospital but still had his great horses on his mind.
Doug pulled through the cancer, and in classic fashion, was aboard Montana Lynx 7 months later, taking the reserve championship and winning over $20,000 at the Biggest Little Cutting In The World.
In 1990 Doug was hired to help build the horse operation at the Tejon Ranch, so he packed up and headed to California. Being extremely busy he had sent his Dad on a buying trips to look for mares and studs for the ranch, and Doug had ended up with a little black yearling from the King Ranch that no one else wanted… he would turn into Doug's first Snaffle Bit Futurity Champion. In 1992 Doug and Mr San Olen captured the Open title, and since 1990 Doug has made the finals nearly every year. After a few years at the Tejon Ranch, Doug moved to Bakersfield, and started up again on his own, and in 2002 – exactly 10 years after his first Snaffle Bit Futurity Championship, he did it again… this time on a son of Mr San Olen, named Doc At Night.
From riding behind his Dad racing horses at 5 years old and living for months on the open range driving cattle, to winning two Snaffle Bit Futurity titles, he remains a contender in tough reined cow horse competition to this day.