Corey Cushing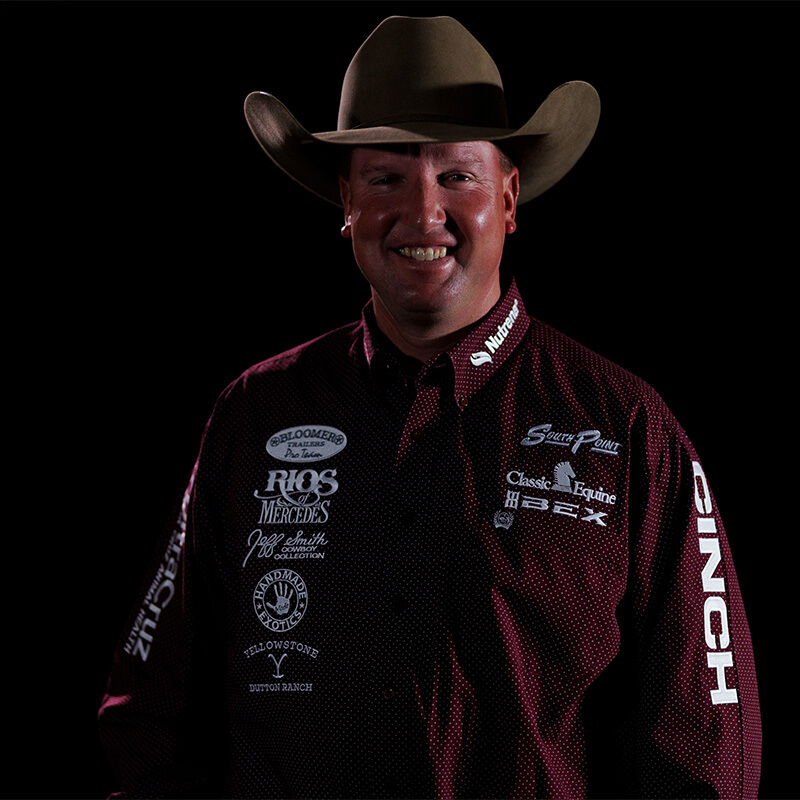 LIFETIME EARNINGS:
$3,052,711.27
HOMETOWN:
Weatherford, TX
2022 EARNINGS:
$289,606.11
3 YEAR EARNINGS:
$688,293.16
ACHIEVEMENTS:
Three Million Dollar Rider, Snaffle Bit Futurity Champion, World's Greatest Horseman Champion
Any time a reined cow horse rider reaches the million dollar earnings mark, it's a special and poignant event – highlighting a career of success and accomplishment.
But the dual accomplishment at the 2012 Snaffle Bit Futurity was even more a milestone as Corey Cushing, 32, became the youngest ever NRCHA Million Dollar honoree and the Snaffle Bit Futurity Champion – a long time dream.
Cushing fulfilled the promise of his considerable talents most visibly when he rode CD Diamond (CD Olena x Shiners Diamond Girl x Shining Spark), owned by San Juan Ranch, to a $100,000 victory at the 2012 NRCHA Snaffle Bit Futurity. He qualified four horses for the Open finals and walked away from the 2012 event with over $158,000 in earnings.
For Cushing, reaching the milestone was a goal.
"I knew I was getting close; my wife Kristen and I were keeping tabs from the first of the year. I've been having a great year with the Derby horses – at the Stakes and NRCHA Derby. We knew when we left for Reno, we were close."
His first professional breakthrough came in 1999, at the National Reining Horse Association Futurity, when Cushing, as a 19-year-old assistant trainer, won the NRHA Futurity Intermediate Open Championship and qualified for the Open Finals aboard Twice As Shiney (Shining Spark x Shine A Mite x Doc O Dynamite). As his career steadily progressed, Cushing's reined cow horse accomplishments moved into the spotlight. In 2007, he claimed his first major NRCHA title, winning the Stakes Open Championship aboard CC Spin Cycle (Ray Gay Quixote x Lenas Peppy Cutter x Smart Peppy Lena), owned by Cathy Corrigan Frank. He won the 2009 NRCHA Derby for Kevin and Sydney Knight on their stallion, Smart Boons (Peptoboonsmal x Smart Little Easter x Smart Little Lena). Cushing also earned back-to-back American Quarter Horse Association Senior Working Cow Horse World Championships in 2011 and 2012 on the mare Rising Starlight (Little Bay Starlight x Peppys Hot Star x Lucky W Peppy Lena), owned by Eric Dunn. In 2014, Cushing and owner Lynne Wurzer headed to the winner's when Cushing captured his second Snaffle Bit Futurity championship title aboard Good Time (One Time Pepto x Dual Nurse x Dual Pep).
Cushing credits his family, friends and mentors for guiding his success. His youth horsemanship skills were honed by Noel Skinner, the respected Utah horseman and Cushing family friend who passed away in 2010. Skinner encouraged Corey to follow his dreams by taking an assistant's job with leading professional John Slack right out of high school in 1998.
"The neat thing was, even though I could've stayed in Utah and kept working for Noel, he encouraged me to go out and ride and train with those guys. He knew they could get me on some good horses, and he wanted to see me be as successful as I could," Cushing said.
October 20, 2018 – Cushing becomes the third National Reined Cow Horse Association Two Million Dollar Rider. Piloting four horses to the 2018 NRCHA Snaffle Bit Futurity Finals and capturing the win and $125,000 paycheck aboard SJR Diamond Mist (CD Diamond x Cat Mist x High Brow Cat), owned by San Juan Ranch, secured Cushing's third Snaffle Bit Futurity championship title and second time crossing the seven-figure milestone.