Don Murphy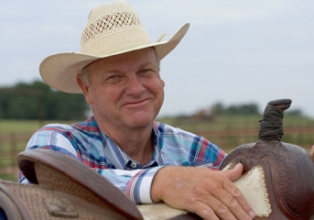 Very few individuals enter the world and achieve greatness as a father, teacher and horseman. Don Murphy is among that minority and the cow horse family is proud that he is one of their own.
Don Murphy, the son of a rancher and horse trainer, was born in Stockton, California, and raised in Brentwood. He has known horses his entire life and has wanted nothing more than for them to be a part of him. Some of his greatest memories growing up include playing cowboys and Indians with his friends using his black and white pony and three of his family's horses. He was an active member of 4-H and Future Farmers of America (FFA) with both horses and cattle. During his freshman year in high school, his cattle project won the prestigious FFA National Award. Don's first mentor was his father, Jim Murphy, who, riding a mare named Dixie, won the Salinas Rodeo in 1936 and finished the year undefeated.
After high school, Don enrolled at Fresno State University where he was asked to oversee the school's equine studies program. Just one semester from graduation, he was drafted into the United States Army and wasn't able to train again until after he was discharged.
Don's first big memorable win out of the service was at Santa Barbara. Ronnie Richards was judging the event and each exhibitor lined up for placings instead of having scores called out following each run.
"I was used to getting second, third, fourth, fifth – I hadn't won a big one yet," Don recalled. "I was sitting in the line up there and they announced my number and I didn't move and finally when they announced my name I realized it was me."
As he continued to build his career, Don caught the eye of Clyde Kennedy who was looking to step back from day-today- training. Clyde offered him a job and Don and his soon-to-be wife, Melene, moved to Clyde's ranch. The move gave Don the opportunity to show some of Clyde's first-class show horses while also learning more about training from Clyde. Clyde sold his ranch two years later and Don and Melene moved out on their own and eventually settled in Southern Oklahoma in 2003.
A few of Don's early champions include Black Hawk Willie and Shetlers Babe; Drift Charge – an excellent Hackamore horse; Cal Palace $15,000 Stakes Champion Morris Van Bar; and the talented Ren Q Girl.
As Don continued to build his reputation as a showman and trainer, others realized he also had a knack for teaching his sport. His teaching can be seen in some of the great young trainers in the industry, alongside numerous non pros and amateurs. And when top trainers from other industry disciplines want to compete on a cow horse, they also look to Don for guidance.
The greatest testament to his teaching skills has shown among his immediate family. Melene earned numerous titles under her husband's coaching and their children, Nelle and CJ, continue to dominate in several events. Nelle Murphy has won both the NRCHA and National Reining Horse Association Non Pro Futurities along with three AQHA Amateur and three AQHA Youth World Championships. CJ has earned one AQHA Youth World Championship, along with five AQHA Amateur World titles. In 2005, he became only the second gentleman to win the AQHA World Championship Show's All-Around Amateur title and he ranks among the top amateur ropers in the United States. The Murphys have earned well over 2,000 points in AQHA competition in roping, working cow horse and reining and Don has trained 23 AQHA World Champions and Reserve Champions.
"I feel like it's a great honor to be inducted to the hall of fame," Don said. "It's beyond belief for me. I just enjoy training horses. It wasn't just part of our family it was a whole family deal that made the horse program work for me."