Dema Paul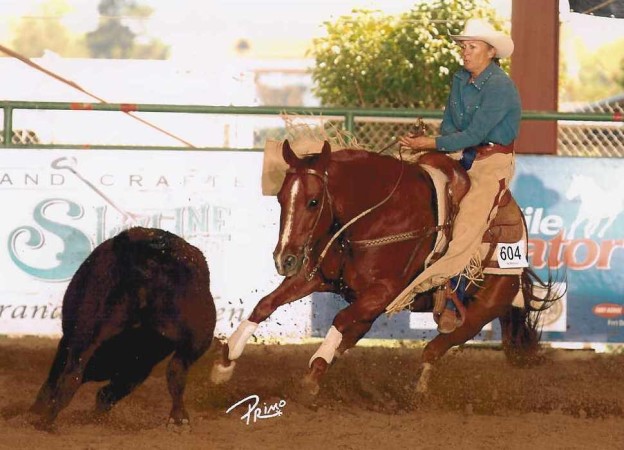 Dema Paul, of Cave Creek, Ariz., was a horse-crazy California girl who remembers, at age 4, standing up in the front seat of the family pickup to point at the picture of the horse on the Salinas rodeo grounds sign every time her parents drove past. "That started the whole thing," she said. When Paul was 8, her father began purchasing horses for her to ride and resell. The profit went into a savings account, and when Paul was 16, she had enough money to buy her first car. Paul began showing in cow horse classes when she was about 9 years old. While she didn't know much about the finer points of training and competing, she educated herself by studying the professionals. "I learned a lot through trial and error," she said. "I'd sit in the stands and watch, and learn by watching the trainers school their horses, and go home and try it. What worked, worked and what didn't, didn't. I couldn't afford to have a trainer. I just did it all."
As a young teenager, the self-taught rider met NRCHA Hall of Fame horseman Ray Hackworth, who lived 20 miles away. He invited Paul to ride with him on Saturdays. "I learned a lot from him," she said.
Eventually, Paul began training professionally and achieved some success. But when she met her husband, Jim Paul Sr., in the 1980s, her career really took off. "He started tuning on me, and buying me better horses, and it really made a difference. We made a pretty good team," she said. The Pauls are now the only husband and wife pair in the NRCHA Hall of Fame.
Paul eventually reacquired her non pro status and became a dominant force in NRCHA competition. She was the Futurity Non-Pro Reserve Champion in 1999 on Cant Find My Sock (Lil Tenino Fair x Gran Quickie x Colonel Freckles), and then won her first Non-Pro Futurity Championship in 2000 aboard Missn No Chex (Miss N Cash x Olenas Watchfob x Dell O Lena). In 2004, Dema took first and second place, winning the Futurity Non-Pro Championship on Shiners Dulena (Shining Spark x Docs Sulena x Doc O'Lena) and finishing as Reserve Champion on Maggie Hickory (Docs Hickory x Doc O Sugs x Doc's Sug). In 2008, she again won the Futurity Non-Pro title on Smart Shiney Lena (Smart Shiner x Sassy O Lena x Doc O'Lena). "The whole industry's been pretty good to me," Paul said. "It's like one big happy family. It's such an honor to be included with these horsemen who are already in the Hall of Fame. It's a complete honor."