Very Smart Remedy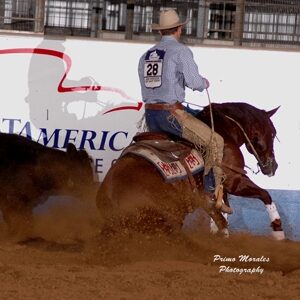 Anne Reynolds, King Hill, Idaho, already was a NRCHA Million Dollar Rider before she arrived in Reno to win her eighth career Non Pro Futurity Championship in 2012. When she piloted her home-bred stallion, Very Black Magic, to a third place finish in the Open finals – the highest ever for a Non Pro – the $60,000 paycheck also elevated Reynolds' stallion, Very Smart Remedy, into NRCHA Million Dollar Sire status.
Very Smart Remedy (Smart Little Lena x Remedys Response x Doc's Remedy) earned $103,601 in his own competitive career, proving his excellence in both NRCHA and NCHA competition. Leading NRCHA professional Jon Roeser piloted the stallion to consecutive NRCHA Derby Championships in 2003 and 2004, and in 2005, the pair won the World's Greatest Horseman Championship.
"When I bought him, Jon Roeser was training him. I was looking for a sire because my two studs were getting really old. Jon really felt that he was going to be a sire. He has a great mother – Jon rode his mother, and he really believed in Very Smart Remedy. I knew he was a great individual and Jon felt like the maternal side was so great, that he couldn't help but be a sire," Reynolds said.
Roeser and Reynolds did not have long to wait before their predictions for Very Smart Remedy's sire career came to fruition. The 1999 stallion quickly established his merit as a leading sire of top performers in the reined cow horse and reining arenas. His offspring include Smart Luck, a stallion out of Gunna Be Lucky (x Gunna Smoke), bred by Reynolds and owned by Cable Creek Ranch. Top NRCHA rider Todd Bergen trained and showed Smart Luck to more than $228,000 in career earnings, including the 2009 Snaffle Bit Futurity Open Finals, fifth place in the National Reining Horse Association Futurity Open, the 2010 NRCHA Derby Championship, the 2011 NRCHA Stakes Championship and the Holy Cow Performance Horses Open Bridle Spectacular Championship at the 2012 and 2013 NRCHA Derby.
Reynolds guided two Very Smart Remedy offspring to great success at the Snaffle Bit Futurity in 2012, making the Open Finals on Very Black Magic, out of the blue hen broodmare Magical Lena (x Little Lenas Legend) and Very Black Magic's full brother, Smart Medicine Man. In 2011, Reynolds won the Non Pro Futurity on a full sister, Smart Magic Trick, and also claimed the NRCHA Non Pro Derby Championship on Smart Magic Trick this year.
At the 2010 Snaffle Bit Futurity, when Reynolds won the Non Pro Championship and Reserve Championship on two Very Smart Remedy mares, Very Smart Playmate and Smart As Sister, and tied for third place on a Very Remedy gelding, Very Shiney, she was particularly thrilled to see her plans for Very Smart Remedy coming to life in his offspring.
"I'm so proud of the colts that he's producing. They really are great horses. they're really good show horses, they've got huge stops, they can turn, they're cowy, they're what you want for this event," she said. "I've been so happy with the disposition and the mental attitude of his babies. They're all really trainable and good in the pen – easy to show. We've been at it for a long time, and it's really nice to be proving him, and proving the mares as well, and having that whole program come together. I'm really blown away by it, actually."
Reynolds operates her Why Worry Ranch breeding operation in partnership with her mother, Joyce Pearson, who owns some of the Why Worry mares and some of Reynolds' show horses.
"Because of her guidance and support and leadership I've been able to ride some unbelievably great horses. I appreciate her critical eye and she always has some good information for me after every run. She's a lifelong competitor and horse person as well, even though she's retired from the show ring. She's an amazing horsewoman in her own right," Reynolds said.