Smart Little Lena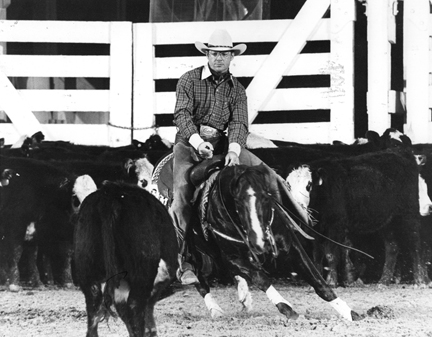 Smart Little Lena (Doc O'Lena x Smart Peppy x Peppy San), bred by Hanes Chatham, Pilot Point, Texas, joined the ranks of the NRCHA $1 Million Sires in 2011.
The legendary stallion carried his career-long trainer and rider, the late Bill Freeman, Rosston, Texas, to the first Triple Crown in National Cutting Horse Association history in 1982 and 1983. He suffered a stroke in 2010 and was euthanized at age 31.
Smart Little Lena's reined cow horse performing offspring have earned $1,033,534.03 in NRCHA competition. Several have achieved their own places in NRCHA history. Lil Miss Smarty Chex (Smart Little Lena x Miss Reed Chex x Bueno Chex) became a NRCHA Hall of Fame horse in 2012. Two Smart Little Lena sons, Smart Chic Olena (out of Gay Sugar Chic x Gay Bar King) and Very Smart Remedy (x Remedys Response x Doc's Remedy) also are NRCHA $1 Million Sires.