Pat Heaverne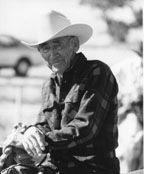 Sometimes in life legends beget legends. In this case Tom Dorrance, legendary horseman, begat a human legend named Pat Heaverne. Son of an Irish man and a Spanish women, young Pat at age seven was taken in by the Dorrance family. It seems Pat's parents were busy with their careers performing in Wild West Shows, leaving Pat to raise himself. This circumstance of fate no doubt set the pattern for one of the finest true buckaroos. Frank Cassas wrote that Pat Heaverne was one of the last REAL cowboys- "The last of the breed when the term "Cowboy" or "Buckaroo" meant that you were a professional and d__n proud of it."
He married when he was 19, and he and Rita spent 56 years together. Although Pat's beginnings were rough, he took the term "till death do us part" seriously. He believed that regardless of finances, you should give your children what really counts; never neglect, only love, comfort, respect and encouragement.
Pat and Rita spent their early years working on some of the finest ranches in the Northwest; the Quarter Circle A, the Moffit Cattle Company and the Ellis Ranch in Elko County, the TS Ranch North of Battle Mountain, and the 25 Ranch South of Battle Mountain to name a few. Pat worked as a buckaroo and Rita cooked for the men while they raised three children. Although he loved the life, Pat was consumed with a passion to train and show stock horses, so he left the high desert to begin training full time. His first success in the show ring was a mustang he captured. After one year of training he won the novice class at the Elko County Fair. In the early years these local and state fairs were the hotbed of competition so Pat's victory started a record that would be hard to beat. He showed at the Elko Fair every year for 50 years, and the list of his championships is long indeed. He also sold horses, and one of his early customers was a young woman named Carol Rose.
Pat ventured out of the Northwest, and tried his luck in the California Circuit. Although he met with success, his arguments were well known that he felt he didn't quite fit in when it came to posting winners. After his lightly scored run on Cho Cho Laudit at the Cow Palace, Pat's lack of agreement kept him away for many years.
In later years health problems did not keep him from showing, as he used an electric heart regulator (he called "the box") which sent sudden electric shocks to regulate his heart while under stress. He received many "jolts" while competing, but he elected to continue, reasoning that there could be no better way to leave this world.
In 1995 the National Reined Cow Horse Association presented him with the Vaquero Award, given for lifetime achievement. He realized then that his talent was not going unnoticed – He had earned an honored place with all the great trainers of the reined cow horse industry.
Pat's daughter Patty followed in his footsteps winning the first World Championship Women's All-Round Stock Horse Contest. His Grandsons Wayne and Frank Norcut are the only brothers in history to win the college bronc riding finals back to back. And great-grandchildren are already waiting in the wings. It is evident that he believed that what separated a true cowboy from the others was how he dealt with his responsibilities to his family.
Pat may never have realized he touched so many lives and was such a guiding influence to so many people. It was said that with Pat, it always seemed you walked away receiving more than you could ever give back. What better legacy could a man leave?