Mitch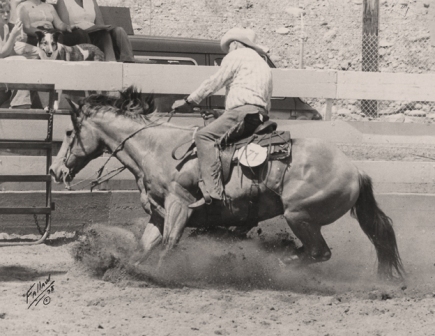 Frank Rue had many great horses, but the one that stands out was a creamy buckskin gelding named Mitch. He was out of a half Morgan, half Thoroughbred mare, and by a fine Silvertone stud.
Born in 1959, he was named after the man who raised him, Edgar Mitchell of Williams, and as a two-year-old was given to Frank. Mitch was a consistent winner from 1963 to 1979, and won in excess of $20,000 during his career which was a tremendous accomplishment in those days.
A partial list of championships includes the Cow Palace, California Rodeo at Salinas, Red Bluff Rodeo, Reno Rodeo, the President of Mexico Cup at the California State Fair, and numerous horse shows and county fairs. Mitch was the CRCHA Champion Hackamore Horse and CRCHA Champion Open Bridle Horse twice. Mitch was shown for the last time at the age of 20 and that year, 1979, he was the Non Pro Champion Bridle horse in the CRCHA.
Frank rarely kept horses for their entire career but after Mitch's show career was finished, he lived out the rest of his life grazing at the family ranch.