Gallo Del Cielo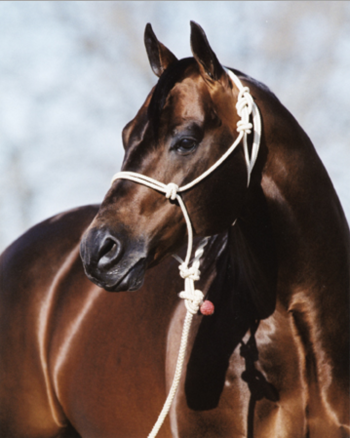 October 30, 2015
Gallo Del Cielo (Peppy San Badger x Doc Starlight x Doc Bar), also known as "Rooster," died following an August 20, 2015 accident, but he left an indelible impact on the entire Western performance horse industry. One of his most recent accolades is Million Dollar Sire status in the National Reined Cow Horse Association.
Foaled in 1989, the bay stallion was bred by Harold "Spook" Stream III, Lake Charles, Louisiana, and owned by the Polo Ranch Stallions, Marietta, Oklahoma. His own show career was brief. He competed only as a 4-year-old year, winning $28,438 in National Cutting Horse Association money.
But Rooster's defining role would be as a sire, and his foals achieved greatness in multiple arenas. Though Rooster was trained as a cutting horse, his offspring demonstrated particular flair for the reining maneuvers, making Rooster a $3 Million Sire status in the National Reining Horse Association. His more than 500 performing foals have earned more than $5.8 million across all disciplines.
Rooster babies do more than spin and slide; they also have risen to the top in the multitasking reined cow horse arena. In the NRCHA, 112 Rooster foals shared in their sire's Million Dollar Sire achievement, with combined earnings of $1,010,778. The top reined cow horse by Rooster is Roo Star (x Anna Paulena x Doc O'Lena), a 1999 stallion with $79,354 in NRCHA money. He is followed on the earnings list by Son Shining Rooster (x Shining Zanzee x Shining Spark), a 2005 stallion who has won $62,231; Roosters Chicaroo (x Meerly Chic Olena x Smart Chic Olena), a 1996 mare with $60,150; Sheza Roo (x Sheza Shinette x Shining Spark), with $57,641; and Roosters Hickory (x Hickorys Red Rey x Doc's Hickory), with $45,417.