Dual Smart Rey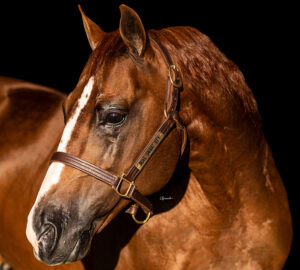 When the National Reined Cow Horse Association wrapped the 2021 show year, offspring earnings tallied showed Dual Smart Rey achieved the earnings milestone to become NRCHA Million Dollar Sires.
The NRCHA Million Dollar Sire accolade has only been earned by 22 sires since the association's inception in 1949. Owned by Strawn Valley Ranch, of Strawn Valley, Texas, Dual Smart Rey (Dual Rey x The Smart Look x Smart Little Lena), a 2002 Quarter Horse, has NRCHA earners of $1,038,613.54 as of December 1, 2021. The stallion earned more than $330,000 and the NCHA Open Super Stakes Champion title in the arena. When Don Horton dispersed his Quarter Horse program in 2013, he kept Dual Smart Rey, called "Lloyd," as the stallion was just venturing into the breeding world. At the time, the family was focused on cutting horses, and the sire had offspring earning more than $9 million in the NCHA.
Lloyd garnered attention when NRCHA Million Dollar Rider Kelby Phillips piloted 2013 gelding Duals Lucky Charm (out of TRR Ms Pepcid Olena) to the 2016 NRCHA Snaffle Bit Futurity Open Championship. The win drew the eye of reined cow horse breeders, and after also winning the 2020 World's Greatest Horseman with Phillips, Duals Lucky Charm, owned by JB6 LLC, is Dual Smart Rey's highest money earning reined cow horse with $273,753.
"We were counting it down! It's not easy to be a reined cow horse million-dollar stud," Michelle Horton said. "It's great he made that milestone. We knew that Lloyd had babies in reined cow horse, but until my daughter, Madeline, started riding cow horses, we weren't familiar with it. In January 2020, she made her first fence run and has been hooked ever since. Even though Lloyd had been marketed in the cutting horse world by my father-in-law, Don—who firmly believes a good horse will market himself—my husband and I realized the potential for him as a reined cow horse sire and really started a push to market him there."
In 2021, the Non Pro Snaffle Bit Futurity Champion Abbie Phillips rode was sired by Dual Smart Rey—TRR Dual Smart Olena (out of TRR Ms Pepcid Olena). That win boosted Dual Smart Rey's offspring earnings by $25,000. The Hortons look forward to watching the next NRCHA earners make their mark in the arena.