Doc Bar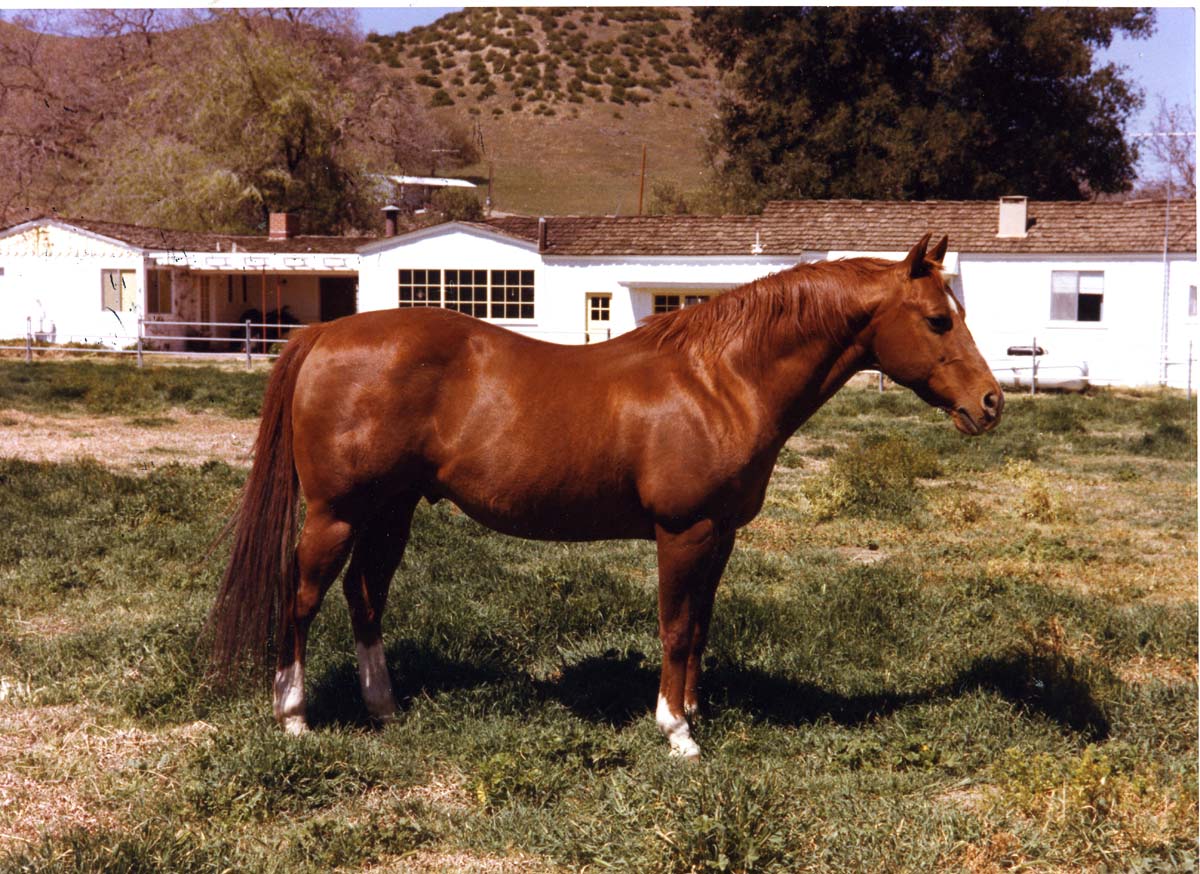 Through the last 60 years there was one horse that has redefined the Western performance horse industry: Doc Bar. Originally bred to be a racehorse, Doc Bar found his 15-hand stature best suited for halter, then siring athletic, cow-savvy offspring. His legacy began to unfold when he was purchased by Dr. Stephen Jensen.
Doc Bar (Lightening Bar x Dandy Doll x Texas Dandy) was bred by Tom Finley in 1956. He had a lackluster career as a racehorse and instead captured nine grand championships in the halter pen. Then, the Jensens stepped in, moving the horse to their Double J Ranch in Paicines, California, where he remained until his death in 1992.
"He was a very easy horse to be around and to work with," said Charlie Ward, who managed the Double J Ranch with Jensen's daughter and his wife, Stephenie. "It was not until after I'd been there and ridden several of his colts, and able to place them [with trainers] around the country where they wound up in the winner's circle, it started to dawn on me he was a little different."
Ward had spent time with Buster Welch and developed a keen interest in cutting. When he saw two offspring sired by Doc Bar competing, he helped shift the stallion's breeding focus to cutting-bred mares.
"[Doc Bar] had one or two offspring that were starting as cutting horses, a mare called Janey Bar that Harry Rose trained, and a mare called Fizzabar that Don Dodge was showing," Ward recalled. "Harry had trained [Fizzabar] as a hackamore horse in the reining before Don started cutting on her. At that point those were the only two I knew of and so we started to point him that way."
Soon, the eye appeal and athleticism Doc Bar stamped on his offspring was catching the attention of performance horse trainers around the United States. The first foals began to compete in 1960.
"They were athletic, quick-footed and had a lot of cow instinct and they were easy to train," recalled Bobby Ingersoll. "They were great horses—they were great then and would have been great today."
Ingersoll, a National Reined Cow Horse Association Hall of Fame member, rode the first Doc Bar-sired colt in the National Cutting Horse Association Futurity. That started a roll of Doc Bar-bred horses out of Poco Lena, including NCHA Futurity Champion Doc O'Lena in 1970 and NCHA Futurity Champion Dry Doc in 1971.
Reined cow horse trainers quickly sought the athletic horses, creating a line of influential sires in reined cow horse: Doc O' Lena, Docs Hickory, Dry Doc, Docs Remedy, Doc Tom Tucker, Genuine Doc, Docs Oak, Docs Sug and many more. In addition to their athleticism, their appearance garnered attention in the show pen.
"The eye appeal box [on the judge's card] was made for them; they had the look," said NRCHA Director of Judges Bill Enk. "If they looked at a cow, it was going to be impressive."
Doc Bar bloodlines can trace through nearly every reined cow horse and have influenced the industry. As Ingersoll says, he will go down as one of the greatest reined cow horse sires of all time.
"I was really happy to hear about [the induction] because it is hard to find almost anything in the cutting, reining or cow horse that don't go back to him somewhere in their background," Ward said. "I'm sure happy he's gotten that award."