Dustin Mills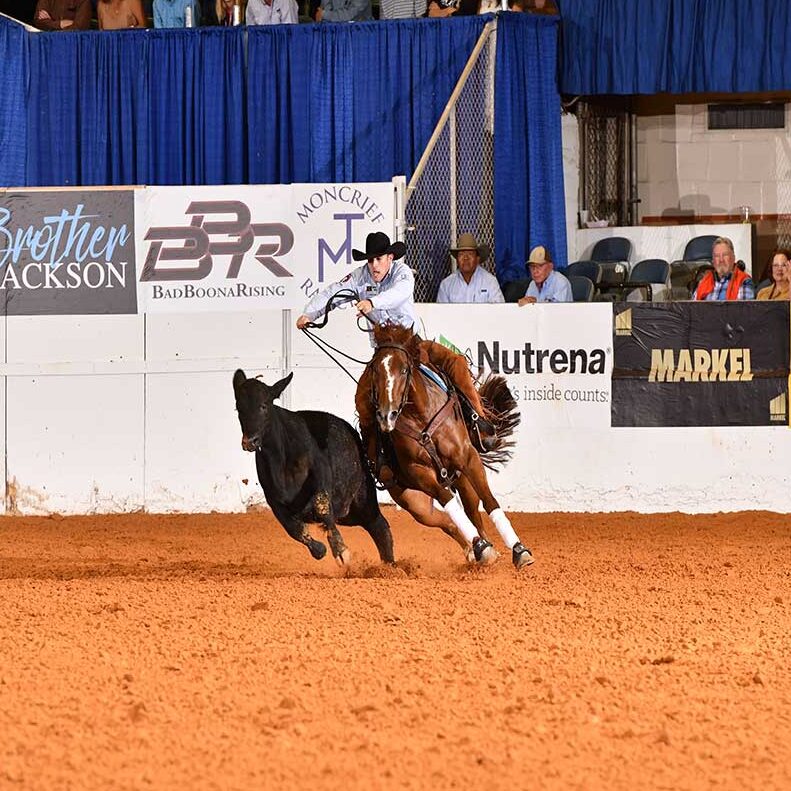 LIFETIME EARNINGS:
$277,496.23
HOMETOWN:
Brush Prairie, WA
3 YEAR EARNINGS:
$214,462.88
Dustin Mills grew up riding cutting horses, but the desire to learn more and teach a horse more had him seeking cow horse mentors. For six years, he worked for National Reined Cow Horse Association Two Million Dollar Rider Todd Crawford before striking out on his own in 2019. Now, he and wife, Hope, call Burneyville, Oklahoma, home.
In 2021, Mills claimed the Snaffle Bit Futurity® Open Reserve Champion and the Intermediate Open Champion titles on Jule Smart Rey (Dual Smart Rey x Soule Jule Forever x Soula Jule Star), owned by Shawna Miller. His highest placing previously was in 2017, where he and Julie Gibbons' Unos Blue Lightening (Uno What Time It Is x Miss Vibrant Chex x Nu Chex To Cash) earned the Reserve Champion spot in the Limited Open Snaffle Bit Futurity.
A regular fixture at horse shows, Mills earned his way to more than $277.000 through a number of horse show titles, including the Intermediate Open Hackamore win on Seven S Pretty Smart (Dual Smart Rey x Lena Pretty Playbox x Freckles Playboy), owned by Hope Mills, at the 2019 NRCHA Snaffle Bit Futurity horse show, the Reserve Champion spot in the Open Bridle on Sparking Metallic (Metallic Cat x Sparking Train x Shining Spark) at the 2020 NRCHA Snaffle Bit Futurity horse show and riding Jule Smart Rey to the top spot in the Southwest Reined Cow Horse Association Pre-Futurity and Horse Show win in 2021.