Clyde Kennedy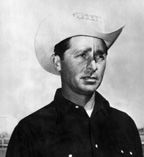 The most versatile of trainers, Clyde Kennedy helped build the foundation of today's horse world. He trained and rode horses for every discipline, from steeplechase to stunt work, to hunters and jumpers to stock horses.
His training methods seemed unorthodox at the time, but he set new standards in every discipline in which he participated and he produced riders and horses of exceptional skill. He took any type of horse and brought out its talent.
He was born in Ray county Missouri in 1919. His father, Goerge William Kennedy was a well-known thoroughbred race horse trainer whose clients included Betty Grabel and Bing Crosby and while Clyde was still quite young, he and his family moved to California.
A naturally gifted rider who was fearless on a horse, Clyde took a job with instructor Alfred Myers who was affiliated with the movie studios. He began playing bit parts, doubling and training horses for the motion picture industry.
Friend and client Slim Pickens helped him get started in the movie business training and riding stunt horses. He doubled for Elizabeth Taylor in National Velvet and did stunt work in a variety of the top movies of the day And during all this time, Clyde continued to teach himself the art of training the reined cow horse.
One of Clyde's most memorable horses was Tucson Bar, who not only won the world in AQHA jumping, but also did demonstrations where he would jump over just about every obstacle he could think of – including full-size automobiles – often hands-free and bridleless. Even in his later years, Clyde and Tucson Bar continued to thrill crowds with demonstrations – all bridleless.
In the late forties, Clyde showed the great stock horse Rango, bringing spectators to their feet and dramatically rising the bar with his demonstration of style and ability. No other competitor came close to Clyde's performance and it's been said that this man, over 60 years ago, marked the beginning of the reined world as it is today.
In 1947 and 1949, Clyde was the Stock Horse Champion Rider at the Los Angeles National Horse Show.
In 1963, Clyde Kennedy was named the American Horse Show Association's Horseman of the Year. He worked with numerous champion horses and riders, including Tab Hunter and Susan Hutchinson. However, one of his most beloved students was his sister, Betty Jo Kennedy, who he taught to show and judge horses.
In 1981, Clyde took a break from his show career and volunteered to train both horses and riders for the Los Angeles Police Mounted Unit. With novice riders, no funds and backyard horses, Clyde developed a mounted unit that was ready to serve and protect in the 1984 Olympic Games. He devoted 8 years to developing the unit, without ever being financially compensated. It was one of the most commended units of the games. As recently as 1990, Clyde was named California Horseman of the Year and he was an international horse show judge.
Don Burt, former AQHA President, stated that "He could be devilish one minute then the greatest help the next."
As an example, Ora Rhodes had two horses entered in the Stock Horse Stakes when just minutes before the class, a heart attack forced him to the emergency room in an ambulance. Clyde mounted one of Ora's horses and Jimmy Williams got on the other. The two catch rode to first and second, even placing ahead of their own mounts.
Another time, when Red Neil fell ill, without hesitation, Clyde drove 100 miles each way for many days to make sure Red's horses were worked, before even working his own.
Clyde was just as serious as a prankster.
When Clyde Kennedy passed away in 1995, as a tribute to his life, the Los Angeles Mounted Police dedicated a performance to Clyde in at the Santa Barbara National Horse Show, where he was inducted into the Horseman's Hall of Fame. During the ceremony, the police performed military style formation and demonstrated techniques Clyde developed to safely arrest dangerous or drugged people.
In the end, Clyde received his final memorial tribute, with his flag given to his sister, Betty Jo Kennedy.
Don Burt, who worked and traveled to shows with Kennedy, considered him the consummate trainer.