Annie Reynolds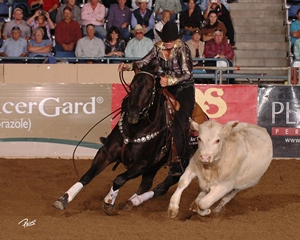 LIFETIME EARNINGS:
$1,729,621.43 
ACHIEVEMENTS:
Million Dollar Rider, Hall of Fame Inductee
King Hill, Idaho, horsewoman Anne Reynolds, already firmly established as one of the most successful competitors, breeders and owners in National Reined Cow Horse Association history, joins the Hall of Fame in 2015.
Reynolds' road to more than $1.5 million in lifetime NRCHA earnings began in 1974. She has won the Snaffle Bit Futurity Non Pro Championship a record eight times, and in 2012, she became an exclusively Open competitor. Not only is she the NRCHA's only female Million Dollar Rider, and the only competitor to achieve that status as a Non Pro, Reynolds is one of the association's only Million Dollar owners. Virtually all her champions have been raised and trained at her Why Worry Ranch, where she has a collaborative program with her mother, Joyce Pearson.
Reynolds' winning formula is based on decades of breeding and training savvy, along with a constant willingness to learn.
"We all tend to think of the process that goes into training a snaffle bit horse as a 2-year time period, and primarily one person training the horse. What sometimes people don't realize is, yes, it takes 22 months to train that horse, but it's taken me my entire lifetime to learn how to do those 22 months, and I didn't do it alone. I had the help of a lot of other great trainers," she said.
Another Reynolds trademark is an unwavering commitment to the mental side of competition. She said she has been in the process of mastering her mental game for more than 30 years. Part of that journey has been learning how to enjoy the progressive nature of horsemanship.
"When my kids were young, I went for a nine year stretch where I didn't have enough time to prepare a horse to be competitive. What I learned during that time was that what I loved most about preparing a horse wasn't winning, but just being able to get out there for an hour every day and improve the horse a little bit. I gave up the idea of winning, and started thoroughly enjoying the process. All of us who get to play this game at any level should be tremendously grateful for the opportunity. It is such a great sport, with so many wonderful people involved in it! My best advice is to just enjoy it, have fun, and be grateful."