Metallic Cat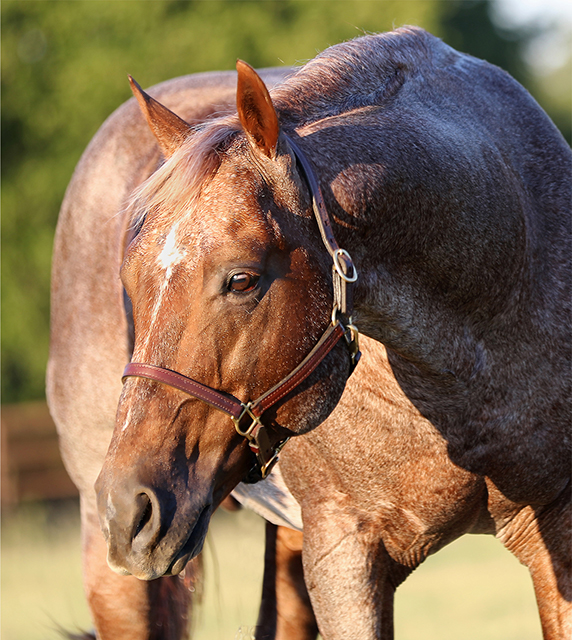 Metallic Cat is the current NRCHA All-Time Leading Sire (as of 10/1/2021)
From 2018 – Metallic Cat (High Brow Cat x Chers Shadow x Peptoboonsmal) is the 18th stallion to achieve NRCHA Million Dollar Sire status, with more than $1.4 million in offspring cow horse earnings. The 2005 red roan stallion, referred to as "Denver", has lifetime earnings of $637,711, with a limited amount of showing. National Cutting Horse Association Hall of Fame member and $3 Million Dollar Rider Beau Galyean piloted Metallic Cat to several prestigious titles, including the 2008 NCHA Open Futurity Championship and 2009 NCHA Horse of the Year, for previous owners Alvin and Becky Fults. The incredible duo made just 12 trips to the show pen, never missing a finals.
After Metallic Cat's impeccable show career, he retired to the breeding barn, where he would quickly become one of the Western performance horse industry's all-time leading sires. While Metallic Cat is a well-established name in the cutting horse world, closing in on $19 million in NCHA money-earners, his impact is also greatly felt within the reined cow horse industry.
Becoming one of the industry's most sought-after generics, Metallic Cat's offspring are known for their train-ability and cow smarts. Metallic Cat's offspring reached this incredible achievement in just five foal crops. His first foal crop debuted at the 2013 futurities and have been dominating the demanding triathlon of reined cow horse ever since.
In the fall of 2017, Metallic Cat was purchased by Bobby Patton, of the Rocking P Ranch, Weatherford, Texas.
From 2021 –
In a dizzying ascent to the top of the National Reined Cow Horse Association's sire earnings list, Metallic Cat now sits at Number One. The red roan stallion's offspring has cut, reined and gone down the fence to the tune of more than $4,250,000*.
Owned by Bobby Patton's Rocking P Ranch, based in Patton's hometown of Weatherford, Texas, the 2005 stallion by High Brow Cat and out of Chers Shadow (by Peptoboonsmal) supported reined cow horse before becoming the presenting sponsor of the NRCHA Snaffle Bit Futurity® in 2019, the year he also was named the NRCHA Sire of the Year. With this newest accolade, Metallic Cat continues to add to a résumé that began when the stallion was showing in the dirt at the Will Rogers Coliseum earning multiple National Cutting Horse Association titles.
Bred by the Roan Rangers and shown by Beau Galyean for then-owners Alvin and Becky Fults' Fults Ranch, the stallion never lost a cow in the cutting pen and amassed more than $637,000 in lifetime earnings.
"We are just thrilled he reached this milestone in such a short time," said Alvin Fults. "That was always a goal of ours when we started breeding with Metallic Cat to the cow horse industry breeders. The sky is the limit where he goes; there are lots of offspring showing and will be for many more years. Congratulations to Bobby Patton for all he's done to keep promoting Metallic Cat."
Patton acquired the stallion in 2015 a year after he had purchased Spots Hot, a cutting horse stallion that he said showed him what the breeding business was like.
"I could see an immediate return on investment in the breeding year following buying 'Spot.' That gave me a taste of stallion ownership and an understanding of the business," said Patton. "When I got Metallic Cat, I wanted to do something different to market him. I have to give Debbie [Roberts] credit because she thought it would be a good idea to branch Metallic Cat out to reined cow horses and that led to our involvement in the NRCHA. It made sense to me. At that time, I didn't have an appreciation of [cow horse] but I got educated and gained perspective on the industry."
In 2018, Metallic Cat became an NRCHA Million Dollar Sire and less than a year later surpassed the Two Million Dollar Sire mark. Metallic Cat passed the Three Million Dollar Sire mark in August 2020, and again took less than a year to pass his next major sire milestone.
Metallic Cat's top two NRCHA stallion offspring are both horses that have competed in all aspects of reined cow horse events. Call Me Mitch, a 2011 stallion out of Miss Hickory Hill (by Docs Hickory) and owned by the late Estelle Roitblat, has $171,376.71 in earnings and Cats Picasso, a 2012 stallion out of Playboys Vixen (by Hickoryote) and owned by Coast Performance Horses, has $159,096.60.
Though the older horses rise to the top of the 437-horse list of Metallic Cat's offspring in the NRCHA database, the young performers are just as competitive. In April, 2016 stallion Hazardouz Material, out of Scooters Daisy Dukes, earned the NRCHA Stallion Stakes Open Championship for owner Linda Mars, and lifetime earnings to $104,517.62. In July, 2017 stallion Ricato Suave, out of Hip Hip Sue Rey and owned by Shaleah Hester and Madeline Fountain, took the Dom Conicelli Memorial Eastern Derby Open Derby Champion title to push that horse's earnings to $104,601.49.
"This is a monumental moment for our industry, one in which we simultaneously honor the ongoing influence of the incomparable Shining Spark and celebrate the meteoric rise of Metallic Cat," said Anna Morrison, NRCHA executive director. "Metallic Cat's mark on reined cow horse is evident as you watch the athleticism and talent of his offspring in our arenas. We are grateful to Bobby Patton and Rocking P Ranch for their ongoing support of NRCHA, and are proud to celebrate this remarkable accomplishment with them."
With all that he's given to the equine industry as a $42 million dollar sire in cutting, reining and reined cow horse, Metallic Cat's connections, led by long-time manager Roberts, continue to heavily support the NRCHA both in and out of the arena.
"A lot of people think of me as 'an NCHA guy,' but I want to emphasize how important NRCHA is to me," said Patton. "It means a lot to me to support the NRCHA and continue our sponsorship, especially through the flagship event, which will be long-term. With the benefit of hindsight, Debbie had a lot of foresight looking at the NRCHA and wanting Metallic Cat and me to be involved."