Jay McLaughlin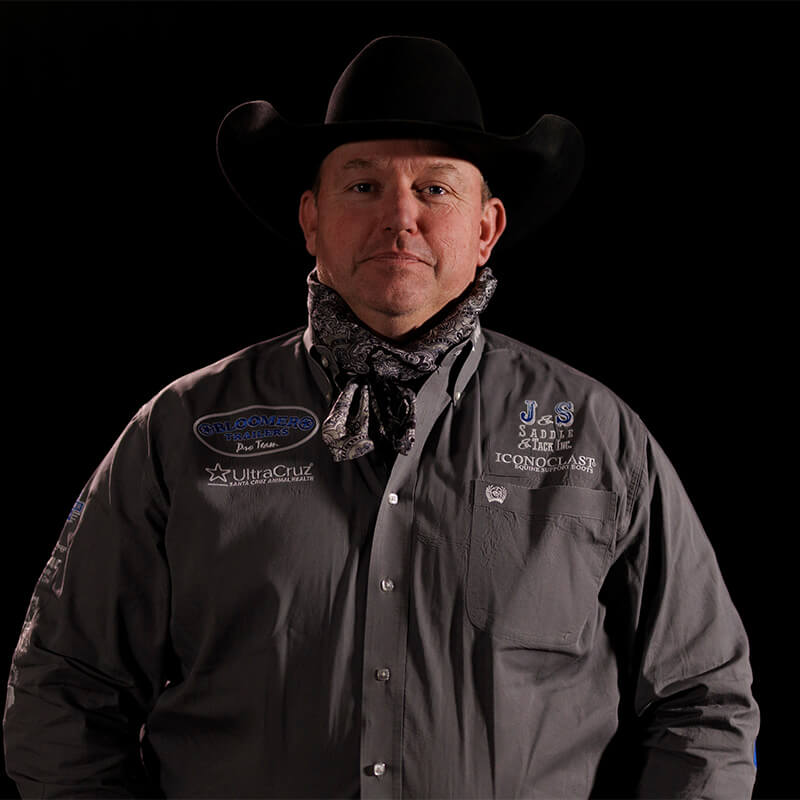 LIFETIME EARNINGS:
$1,434,668.80
3 YEAR EARNINGS:
$191,659.21
ACHIEVEMENTS:
Million Dollar Rider
"Among horse trainers, the Million Dollar Rider is an awesome title. It's cool to be at the very top, and it's an honor I have always wanted to have," McLaughlin said. Born in 1974, into a Missouri family where horses were a primary focus. McLaughlin's father, Mike, was a versatile professional horse trainer who prepared Quarter Horses for many disciplines, including reining, pleasure, halter, western riding, horsemanship, trail, barrels, poles, and more. His mother, Julann, built a successful 4-H program from the ground up, and operated it for decades. McLaughlin credits her for instilling his strong foundation as a rider and competitor.
"When I was 10 years old, I wanted to ride in the 'canter classes,' as I called them. I didn't want to do the walk-trot, I didn't do the lead line. I always set my goals higher," McLaughlin recalled. "Her rule for me was, I had to show in the horsemanship, the showmanship, all of that stuff, before I could do any of the reining or the barrels or the poles or any of the other fun classes. I think that has a lot to do with my horsemanship skills. It was fun for me because I'm very competitive, so I excelled at those too. I wanted to win. It's hard for anybody to be second, but I really took it hard."
McLaughlin's competitive nature served him well as he grew up and followed in his father's footsteps, starting his professional horse training career at age 18. His initial focus on reining soon turned to the adrenalin-fueled challenge of reined cow horse.
"The cow horse is the most difficult discipline that I've ever been associated with. You can only ride so many cow horses a day. You have to learn how to train those horses in three events, or two events, depending on the age of the horse, not burn them out, and strive to have something that will go mark a 75 in every event," he said.
According to NRCHA records, McLaughlin earned his first reined cow horse paycheck in 1999. Just five years later, in 2004, he made his debut at the Snaffle Bit Futurity, enjoying success that few first-timers can claim, qualifying for the Open and Intermediate Open Futurity Finals on SS Rosa (Sailing Smart x Snowmans Rose x Snowman Doc), owned by Julie Gibbons.
"I can still remember my scores that got me into the Open finals the first year I ever went. I marked a 209 in the herd, a 217.5 in the rein work, and a 219 down the fence. You can't do that any more. There's no way you could make the Open finals marking a 209 now. That's how much I think it's changed. It wasn't very long ago, and it's that much more competitive," McLaughlin said.
He credits his wife, Wendy, for her stalwart support during his million-dollar journey, with its inevitable ups and downs. "She's put up with a lot of headaches, and the times we didn't have any money, and living in a trailer, like every horse trainer has done once or twice, or still is, in their life. She's pushed it all the way. She's always there whooping and hollering, whether I suck or I don't. That's a pretty big deal. She sure has backed me 190 percent, and I love her, and that's a big deal," he said.
The McLaughlins and their sons, Ryder and Cutter, live in Commerce, Texas, where Jay is resident trainer at Aaron Ranch. Cutter, a successful NRCHA Youth competitor, seems on track to continue the McLaughlin family horsemanship tradition – and Jay predicts his son will be able to achieve NRCHA Million Dollar Rider status more quickly than he did.
"I don't think it will take as long for the younger guys to get it, now that the NRCHA is growing and adding more money all the time. I think that growth will make it a little easier for those guys to get the milestone if we keep climbing like we're climbing. The NRCHA has a huge future ahead, if it keeps going like it's going," McLaughlin said.
Besides his new status as a NRCHA Million Dollar Rider, McLaughlin's resume also includes 12 NRCHA and American Quarter Horse Association World Championships. He was the 2013 NRCHA Futurity Open Reserve Champion and the 2015 NRCHA Stakes Open Champion aboard Aaron Ranch's Blind Sided (Peptoboonsmal x Lil Miss Shiney Chex x Shining Spark), and he has claimed numerous other championships, finals berths and top placings in reined cow horse and reining.
McLaughlin already has his sights set on becoming a NRCHA 2 Million Dollar rider, and predicts the best is yet to come. "I'm not done, by any means. I'm not going to retire and say, 'I've won what I need to win,'" he said. "At the end of this story, I want you to put, 'stay tuned,' because there are going to be some more great horses, I'm telling you. It's a fun ride!"