Tom Fox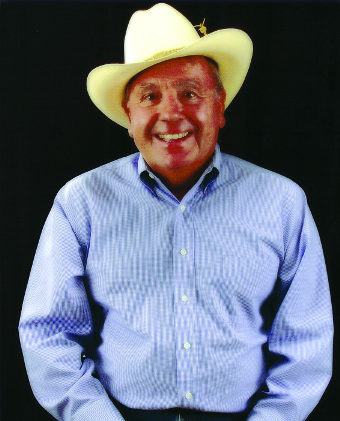 Lifelong Bakersfield, California, horseman Tom Fox was the recipient of the National Reined Cow Horse Association Vaquero Award in 2010, and in 2015, he becomes a member of the NRCHA Hall of Merit.
Fox's love of horses developed at an early age, thanks to his upbringing in wide-open spaces with plenty of opportunity to ride. As a youth, he competed in local shows and drill team, and then found a passion for stock horses when he became acquainted with National Reined Cow Horse Hall of Fame horsemen Harry Rose and later, Greg Ward.
Fox owned Ward's first show horse, a 1954 sorrel American Quarter Horse named Jigger D'Or (Bras Dor x Rocksea x King). Ward and Fox both competed on the gelding, who carried Ward to his first year-end stock horse championship in 1963. It was the beginning of a decades-long, successful partnership between Fox and the legendary Ward Ranch. The Wards and Fox are linked to great equine performers including the late stallion Boomernic (Reminic x Docs Leavem Smoke x Mr Gun Smoke). Fox owned Docs Leavem Smoke, and bred Boomernic in partnership with Greg Ward, whose familiar "GW" brand was on the stallion's hip.
Horses owned by Fox have garnered many accolades with both the late Greg Ward and his son, NRCHA Million Dollar Rider John Ward, in the saddle. One of Fox's most recent NRCHA money-earning horses is the 2010 gelding, Smashingly Smart (Smart Little Pepinic x Montanas Fox x Montana Doc), shown by John Ward.
Fox is a lifelong farmer, and he and his wife, Lorie, have been married for approximately 40 years. The couple enjoys the company of their two grandsons, the children of daughter Julie and son-in-law Richard. Fox says he is "truly honored" by the accolades from the NRCHA.
"I have enjoyed being a member of the NRCHA for many years, and have acquired many lifelong friends, watched many great horsemen, and seen many talented horses perform. If there are horse shows in Heaven, I'll be all the more happy to go there," he said.