Nancy Crawford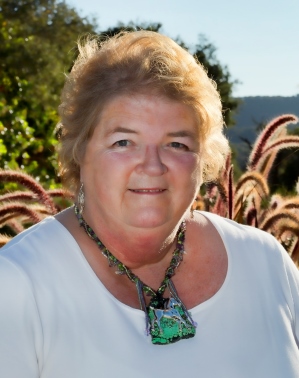 Nancy Crawford was raised on the ranch she now owns, San Lucas Ranch, a 10,000-acre cattle operation near the small California central coast community of Santa Ynez. Crawford's grandmother, Anna Vickers Crawford, bought the property in 1924 and made it a working cattle ranch. Although horses were used for daily chores, Crawford's parents did not permit her to spend time horseback when she was young. She was 42 by the time she learned to ride – on a trained cutting horse. "I had no clue what stirrups were for," Crawford reflected. "It was a terrifying experience" on a "powerful mare" named Sugs Classy, a double bred Sugar Bars filly. She bought the mare and later purchased another cutting horse, an older gelding, and proceeded to fall off "more times than you can imagine."
But the cow horse bug had bitten Crawford in earnest. She established Holy Cow Performances Horses at San Lucas Ranch in 1999, and recently opened a second Holy Cow Performance Horses facility in Weatherford, Texas. She has assembled an elite band of broodmares, including leading NRCHA producer Sheza Shinette (Shining Spark x Chick And Chex x Smart Chic Olena). Crawford's goal is to raise top prospects for the cow horse, cutting and reining arenas. "The first priority is to produce some very fine foals, and a very select group," she said.
Crawford also has built an impressive stallion roster, with Shady Lil Starlight (Grays Starlight x Shady Little Cat x High Brow Cat); Nabisco Roan (Boonlight Dancer x Crackin x Smart Little Lena) and Once A Von A Time (Von Reminic x Sheza Shinette x Shining Spark).
Crawford is a stalwart NRCHA Breeder Sponsor and also established the $25,000-added Holy Cow Performance Horses Open Bridle Spectacular at the NRCHA Derby. That event is a memorial to her late, great stallion CD Survivor (CD Olena x Have A Lil Lena x Peppy San Badger), a talented performer who had to be put down following an accident in 2009.
Because Crawford believes success in the industry does not come over night, she has built her program to go the distance. "I said, years ago, that you have to win by numbers and longevity," she asserted. "I've seen people, time and time again, win the Futurity, or win a lot of stuff right away, and then the next year, they don't win anything. It takes a lot of time. I've never won the Futurity. I hope, one day, I will, but that won't stop me because it's such a wonderful sport, and there are wonderful people in the organization. I really enjoy it."