Jim Putnam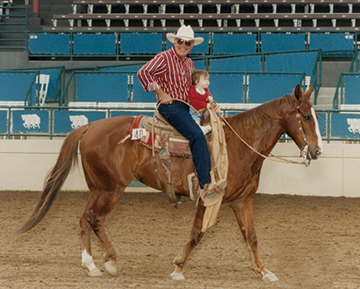 Jim Putnam has said "Every time I ride in, I win."
Jim grew up as one of six siblings on a ranch in South Dakota. He left home early, and from age 17 to 26, sold home improvement items door to door. However, the optimistic salesman quickly climbed a ladder, and when he retired from the auto business in the late 1990's, he owned over 10 different franchises.
He started showing in the mid-1980's, when he was 48. Even though he hadn't been on a horse since he was a young man, his daughter was an avid showman. The first time he saw Greg Ward show, he "got the bug."
Jim bought a horse named Sin Bar Chex, and sent him to the Wards, and John showed it at the California Reined Cow Horse Association Snaffle Bit Futurity. The next year, Jim showed a horse, Whirlinic, at the Snaffle Bit Futurity for the first time.
The hard working Non Pro was never afraid to show against the "big boys" of the reined cow horse and cutting industries. He has competed in the World's Greatest Horseman, the Snaffle Bit Futurity, and numerous cutting events. "I don't have a big show record, but I get to go, and I feel like a winner. "Reined cow horses is one of the events that you can compete against anybody, and have a chance of doing well," he has said.
Not only did Jim make a mark on the show ring, he also helped out the NRCHA when it needed it. In the late 1980s and early 1990s, the NRCHA was having some financial difficulties. When Ted Robinson asked Jim to step in and help them out, Jim was more than willing. "Ted asked me to come in and handle the money," explained Jim. "The thing was, there wasn't any money. It was like asking a cowboy to take care of some cows, when there wasn't any in the pasture." Jim spend nine years on the NRCHA Board of Directors.
When asked about his induction to the Hall Of Fame, Jim was very humble about his involvement. "I didn't do what I did because I wanted to be recognized like this. I just did what I needed to do, stepping in and getting involved running it for four or five years. It's really an honor to be recognized like this."
Jim went on, saying, "I really would like to recognize Greg and Laura Ward – they helped get the association back on its feet, not only by starting the Raffle Colt, but also by always supporting the association. Also, Matt and Lesley Day, Carol Guitron – there are so many people to list that really helped the NRCHA get back on its feet. It makes me really proud of the association, and of the people running it now."
Jim now resides in Visalia, California, on his ranch. He is still involved with the association, and plans on showing for many more years.