Howard Erenberg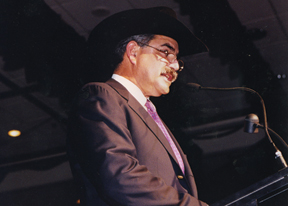 Howard Erenberg was born in Los Angeles, California and got his first horse at the age of 10. After high school, Howard attended the University of Southern California where he graduated with a masters degree in finance.
In 1991, Howard went with a friend to Les Vogt's ranch to look at some horses. This was Howard's first exposure to reined cow horses, and he was amazed! In 1995 Howard, along with Monte Baker, came up with an idea to have a horse show in the Santa Ynez Valley. This show became the Santa Ynez Valley Cow Horse Classic and Futurity.
Upon presenting the show idea to the NRCHA Board of Directors, it was recommended that Howard become a board member. He was elected to the board, became the treasurer, and eventually President. In 2001, Howard assumed the position of Executive Director and completely re-constructed the NRCHA's finances.
For Howard, it's truly an honor to be able to contribute his skills to the NRCHA.